Euphorbia decidua is a wonderful miniature plant with a thick, subterranean stem.
It is a hard species to find, but well worth


Description: It is a dwarf and very slow growing spiny perennial succulent with a large 'turnip-like' woody tuberous root.
Stem: Subterranean (in habitat) or usually above ground in cultivation, much reduced, merging imperceptibly with the root and forming a spherical to conical woody caudex 5-10 cm in diameter and 5-20 cm tall. The small central apex on the enlarged woodstock produce in spring numerous thin deciduous branchlets to form a small clump up to 30 cm in diameter. The branchlets are green erect, 7–20 cm long, 3-5 angled, about 5-6 mm in diameter;
Spines: 3–4 mm long, widely divergent, with expanded bases.
Leaves: In juvenile stage the thick, subterranean stem bears broad apical, ovate, sessile, deciduous leaves 12- 22 mm long. But at maturity the plant produces only a small showing of deciduous green spiny stems.
Flowers: Pale green with a red centre.


Cultivation: Not difficult to grow if you stop watering which the branches fall off in the winter.
Propagation: Seeds/Cuttings

Advertising




Family: Euphorbiaceae

Scientific name: Euphorbia decidua P.R.O.Bally & L.C.Leach
In: Kirkia 10:293. 1975
Origin: Angola, Zimbabwe, Zambia, Malawi and Zaire.
Habitat: Grows in deep sand and cracks among granite rocks.
Conservation status: Listed in CITES appendix 2.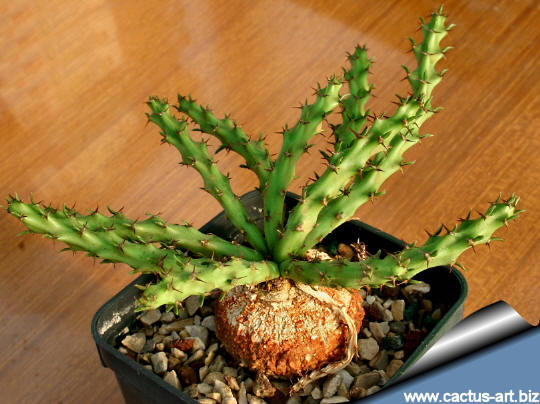 This is a very rare species not often available that bears broad apical leaves 12- 22 mm long in juvenile stage. At maturity the plant produces only a small showing of deciduous green spiny stems.