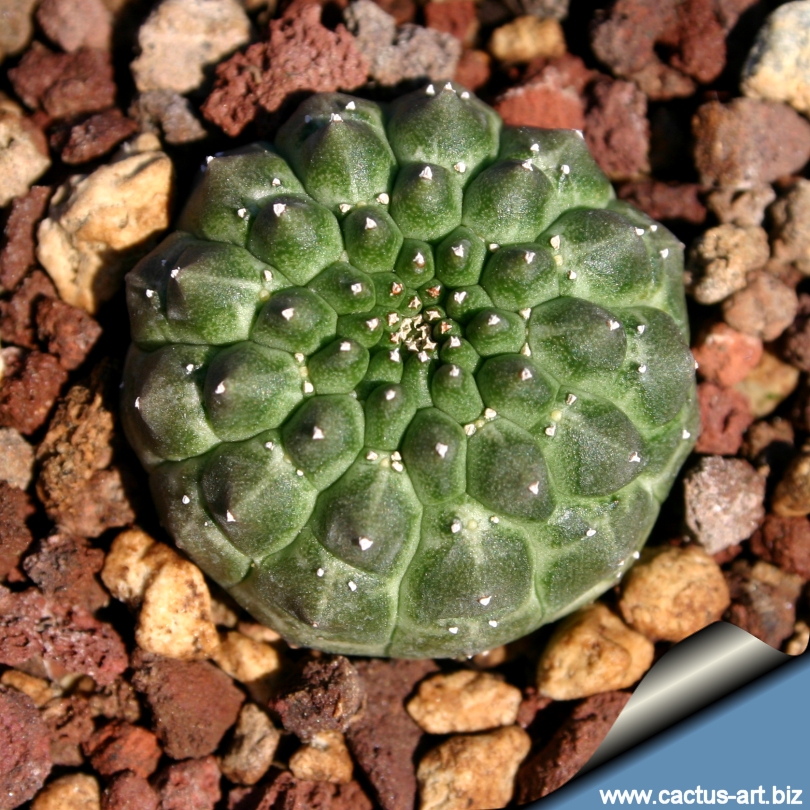 Euphorbia gymnocalycioides is a very unusual plant and one of the most remarkable of succulents.
It is among the most desirable of all "collectors' plant".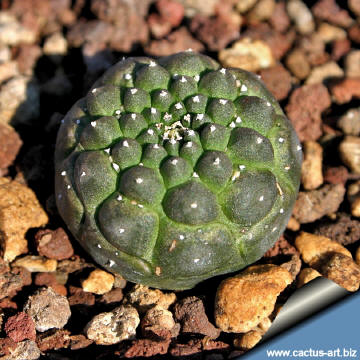 Description: It is a great looking small succulent euphorbia with a deep green, knobby globoid body. It bears such a striking similarity to a genus in the cactus family, Gymnocalycium, that it was given the epithet "gymnocalycioides" (resembling Gymnocalycium). It is a fine example of convergent evolution, a process in which the same adaptive traits evolve in distantly related species or groups as a response to similar environments (in this case, hot and dry deserts).
Stem: Fattened globular, subglobular to shortly cylindrical, up to 12 tall x 10 cm wide, bluish-green, that can take a dark tan to purplish tinge in full sun,
Tubercles: Prominent, separated by deep grooves, approx 1 cm apart, with a striking spiral arrangement in approx 18 series. Each tubercle is tipped by a weakly horny shield up to 2,5 mm in diameter bearing the leaves scars.
Spines: Minute only in the seedlings and on the new growth.
Leaves: Rudimentary, ephemeral and quickly deciduous.
Root: 1,5 cm thick and merging into the body
Flowers: Small around the growth centre. The inflorescences are simple (or occasionally branched) cymes, consisting of three cyathia, which appear in groups of 2 to 6 on each eye, but not all developing. Often in young plants with only the central of the three cyathia developed. Peduncle up to 7,5 mm, cyathia 2,5 mm in diameter, elliptic, brown, pedicel 2,5 mm.
Blooming season: Summer.

Warning: As with all other Euphorbias when a plant get damaged it exudes a thick white milky sap known as latex. This latex is poisonous and particularly dangerous for the eyes, skin and mucous membranes. So pay extreme attention not to get any in your eyes or mouth. Cultivated plants must be handled carefully.



Advertising
Family: Euphorbiaceae
Scientific name: Euphorbia gymnocalycioides M. Gilbert & S. Carter
In: Bradleya 2:9. 1984
Origin: Southern Ethiopia (Sidamo prov.)
Habitat: Grows on substrata rich in limestone in a widely spaced Acacia bushland. Altitude 1350 m.
Conservation status: Listed in CITES appendix 2.
Etymology: This euphorbia is named for the superficial resemblance to the cactus genus Gymnocalycium.
Cultivation: This slow-growing spherical plant has the fame to be difficult to grow on its own roots, and is generally grafted for convenience on Euphorbia canariensis or Euphorbia resinifera, but it proved to grow easily from seed ( though very slowly) and it can be treated like an average Euphorbia. The grafted specimens can be easily degrafted by those who wish to try to grow them on their own roots. If you remove an offset, remember to let it dry for a week or so, letting the wound heal (cutting planted to soon easily rot before they can grow roots). It is better to wash the cut to remove the latex. They grow well in a very draining mineral potting substrate. Need frost protection. Sun Exposure: full sun to light shade.

Propagation: Seeds, grafts

Grafting: The plants that are grafted on a more vigorous and easier stocks are easier to keep, grow faster and produce more flowers and seeds. The method of grafting euphorbias differs little from that of other succulents, except in one important aspect. The latex must be washed or sprayed off until hardly anything remains. After the latex flow has stopped, a further 1-2 mm slice can be taken from both surfaces without a new latex flow starting. Both scion and stock need to be at the start of the growing season. The stock should be cut as near as possible to the growing tip, as here the vascular bundles are dense and not yet woody and will feed the scion in the best possible way. Where possible stock and scion should be of similar diameter. The cut surfaces are held together with elastic bands in cross style, over the plant top and under the pot. The plants should be left in an airy and shady place for 7-10 days before the bands are removed.