Euphorbia mitriformis 'dwarf form'
This is a beautiful compact species that provides a magnificent view, it can form a magnificent dense cushion with thousand of small heads. Unfortunately these plants are seldom found in collections.


.



Warning: As with all other Euphorbias when a plant get damaged it exudes a thick white milky sap known as latex. This latex is poisonous and may irritate skin. Pay extreme attention not to get any in your eyes or mouth.
Cultivated plants must be handled carefully.


Advertising




Family: Euphorbiaceae
Scientific name: Euphorbia mitriformis P.R.O. Bally & S. Carter
(CSJA 48(3): 127-129, ills., 1976)
Origin: Somalia (Saanag region)

Habitat: Rocky, limestone slopes with very open shrubs. Altitude (m) 1200-1600.
Conservation status: Listed in CITES appendix 2.
Common Name: Dwarf Pincushion Euphorbia
Description: Low growing, dense, compact, clustering succulent stems that in nature forms impressive rounded or conical mounds up to 40(-100) cm tall and 1m wide. Each mound is composed of a lots of little heads of just 1 to 1,5 centimetres in diameter.
Stems: Branches up to 10 cm, deeply 5-angled not exceeding 1,5 cm of width, angles with shallow teeth to 5mm apart. The most common form in cultivation (depicted in this page) forms a globular cushion that seldom exceeds 30 cm in height.
Spines: 2-25 mm long, grey to reddish (depending on season). The basal shields of the spines are a pale greyish oblong, ± triangular 6x2 mm, irregularly angled between them, closely set apart, to form an almost continuous margin.
Flowers: Cyathia red on solitary cymes, 1-3 frocked up to 2,8 mm in diameter, peduncles 2mm long.
Roots: fibrous

Note: Euphorbia mitriformis is a relatively variable species. The plants from different areas area differ slightly, one from another: Some form dense cushions of very small branches up to 30 cm in height; others have fewer and longer stems, up to 1 m high. (The small one is the more beautiful, and appreciated in cultivation)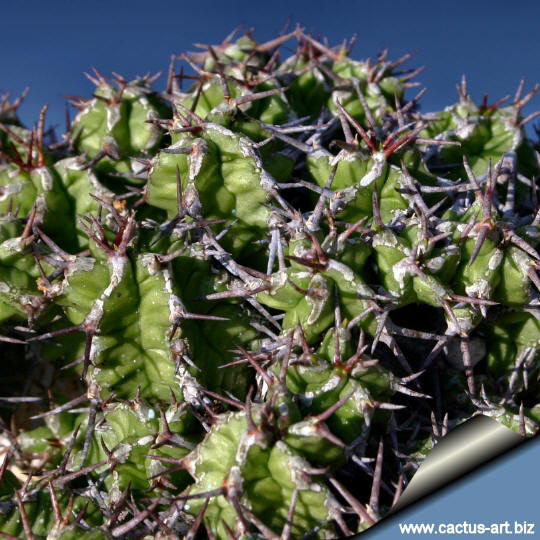 Cultivation: It is a slow growing but easy species, it grow well in a very draining mineral potting substrate but it isn't picky about soil. It can be watered moderately all year around (except in the coldest month of the winter, as it rots easily (especially if too wet). During the summer they enjoy average feeding and watering. They do need a lot of light to keep their compact growth-form, but different clones vary in their tolerance of full sunshine. It responds well to warmth, ith its active growth period in the late spring and summer months. Very tender; protect from frost.

Propagation: It is propagated by cuttings (It branches enthusiastically and offsets are readily available) if you remove an offset, remember to let it dry for a week or so, letting the wound heal (cuttings planted too soon easily rot before they can grow roots). It is better to wash the cut to remove the latex.