This is a free flowering and fiercely spined species.

Description: Globose cactus, up to 10 cm in diameter.
Stem: Glossy green
Spines: Long, downward-pointed
Flowers: Blossoms are large (6 cm in diameter) and stand near the top. They are yellow with glossy petals and have a dark purple stigma. The buds are tomentose and appear during the summer.





Photo of conspecific taxa, varieties, forms and cultivars o

f plants belonging to the

Parodia (Notocactus) mammullosa complex

(This Taxon has lots of synonyms whit several controversial varieties and subspecies and comprises a multitude of different forms, but where each form is linked to others by populations of plants with intermediate characteristics)

:


Advertising




Family:
Cactaceae (Cactus Family)
Conservation status: Listed in CITES Appendix II

Notocactus turecekianus (R.Kiesling 1995) W.R. Abraham In: KIESLING, R. Internoto 16 (3): 82-86 1995
Scientific name (Basionym): Parodia turecekiana
In: Cact.Succ. J.(US) 67 (1) : 15-19

Holotypus: J.Piltz P398 (Argentina), Herbarium of San Isidro, Buenos Aires.

Origin: North-eastern Argentina (Entre Ríos, Corrientes), western Uruguay, southern Brazil
S
ynonyms:
Notocactus mammulosus ssp. turecekianus Prestle 1997 nom.inval.
Notocactus submammulosus var. turecekianus (Kiesling) Lode nom.inval.
Notocactus turecezkianus
Notocactus turececkianus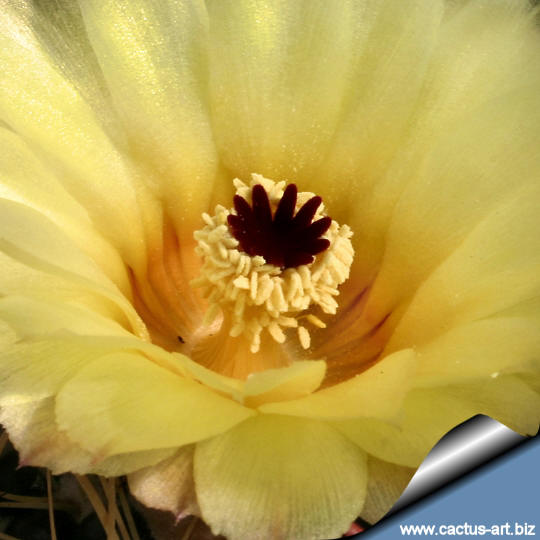 The stigma is very dark purple (almost black)
Notocactus turecekianus is similar to N. submammulosus but with longer centrals and also differing in quite a few other ways. Roberto Kiesling described this new species in the Jan-Feb 1995 issue of the CSSA Journal and named it Parodia turecekiana.
The plant was named after Victor Turecek, a USA collector specializing in the growing of Argentinian cacti.
Cultivation: It is easy to grow. It likes a warm bright location, does great in partial shade avoid full sun. It needs good drainage and prefers a neutral to slightly acidic compost with plenty of extra grit. Water and feed during the summer. Best if watered with rain water. Keep above 0°C and rather dry in winter, rot easily if the substrate is wet and cold, tends to lose its roots in winter.
Propagation: Seeds