Areoles with yellow-brown glochids and white felt .
White blooms with a greener throat.

Morphology (Identifying Characteristics): Small clumping segmented succulent, In cultivation grows as a small erect segment chains. In habitat the plants stay smaller because the uppermost segments are detachable and drop easily.
Areoles : Very ornamental with bright yellow-brown glochids and white felt.
Spines: Spineless.
Flower: Dirty white or very pale pink a little hyaline with a green centre and green filaments. Pericarp is comparatively small and has areoles furnished with bristle-like spines as strong as the one on the young shoots.




Blooms

The "Red glochid form"

Cultivation: It is easy to grow but usually couldn't get very tall as segment kept falling apart. It is fairly cold resistant and hardy to -9°C depending on the clone, Need full sun, (with insufficient illumination stems get thinner as a result of the lack of sun) The main growing period is spring. It might produce some new segments in the autumn too. Needs good drainage. Propagation is through segment cuttings, or occasionally seeds The little glochids at the base of these larger spines are quite a nuisance, and it is best to use gloves to handle this plant.


The abundant guttation from the areoles at the base of hypanthium at anthesis, a phenomenon common among most Tephrocacti

The articles are spineless glaucous.


Advertising




Family: Cactaceae (Cactus Family)

Scientific Name:

Tephrocactus molinensis

(Speg.) Backeb. 1953

Type:
Exsiccata:

"Opuntia schumannii-Tephrocactus molinensis" (LPS 14335). Lectotype designated by Kiesling (1984a: 230, as type). Corp.

Basionym

:

Opuntia molinensis Spegazini.
Published in: Anales Soc. Ci. Argent. 96: 63. 1923,
nom. nov. prop. Opuntia schumannii Speg. in Anales Mus. Nac. Buenos Aires 11 (ser. 3, 4): 511. 1905, nom illeg. (non F. A. C. Weber).
Protologue: "Hab. Semel abunde prope Molinos,

Prov.

Salta". Photographs: LP: without data. Later, Spegazzini (1925: 102) published this photograph, although he did not mention if it corresponds to the type.
Obs.: Spegazzini (1923) created a new name: "Opuntia molinensis Speg. (nom. nov.) = O.

Schumanni

Speg. (non Web.), Cactacearum

platensium tentamen, nº 106", since the name Opuntia schumanni was already created by

Weber in 1904. Distribution: Argentina (Salta, Los Molinos)

Habitat: Grows a open area among wide spread Trichocereus pasacana.
Notes: At the end of the dry season the cladodes are very dehidrated and plants retract almost at soil level.

Etymology: The genus name "Tephrocactus" derives from the Greek adjective "tephros (τεφρος)" meaning "ash coloured" plus the connective vowel "o" used in botanical Latin for Greek words , and the word "cactus" (an old genus name)
(The genus name implies: "ash coloured cactus").
The species name "molinensis" comes from "Los Molinos", name of the original location from which the species is native.
Opuntia glomerata andicola
Opuntia molinensis
Maihueniopsis molinensis]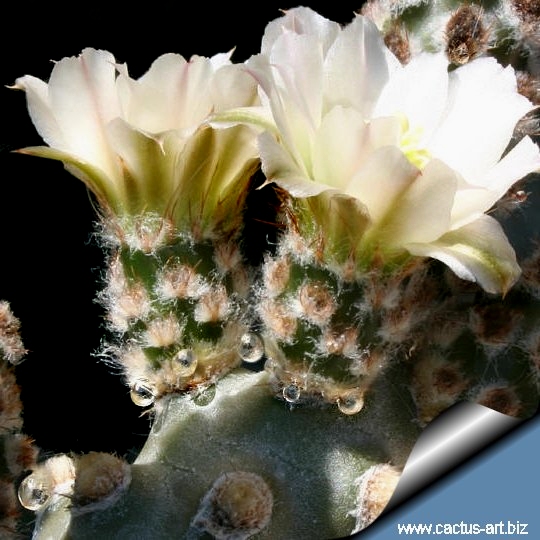 Photo of conspecific taxa, varieties, forms and cultivars of Tephrocactus molinensis: