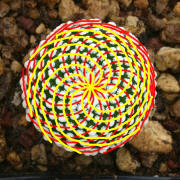 A specimen of Mammillaria luethyi parastichy number 10-16 (yellow and red parastich)


Parastich are the apparent – primary and secondary – spiral lines visible in the position of a leaf (or of other homologous organ ), it is also used to describe the spiral line of areoles on the stem of cactus.
Each of the patterns has a certain number of primary (yellow) and secondary (red) spirals. Botanists have classified these patterns according to these parastichies numbers. Hence, if a pattern has 10 primary (yellow) and 16 secondary (red) spirals, it is said that its parastechy numbers are (10, 16): the smallest number always goes first. Each species is characterized by a defined range of parastichy number. This number may vary and increase with time from juvenile to adult age.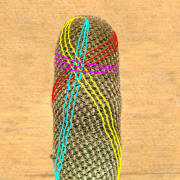 Right: A stem of Lobivia famatimensis v. bonnieae, it is possible to see not only the primary (yellow) and secondary (red) parastich but also tertiary (blue) and quaternary (violet)