Copiapoa calderana. Really magnificent!!!

Description: Usually solitary or slowly clumping columnar cactus.
Stem: Dull greenish or greyish-green, not pruinose, depressed spherical or cylindrical, 15(-30) cm tall, 10 cm in diameter; Apex densely woolly.
Ribs: 10 to 17.
Areoles: Yellowish-grey, later black, 5 mm across.
Spines: Thick reddish brown to black.
Central spines: 1( to 2), 2.2 to 3 cm long.
Radial spines: 5 to 7, 1.3 to 1.5 cm long.
Roots: Long tuberous.
Flowers: Large light yellow funnel-shaped, 3 to 3.5 cm in length, 3 cm wide, scented.
Blooming season: Spring and summer,
Fruit: Pale green, reddish above to 15 mm long.
Seeds: Glossy black
Note: This appears to be a very variable species.

Plants at different stages of development.


Photo & © copyright by Süleyman Demir Turkey
Home page: http://community.webshots.com/user/demir165


Cultivation: This slow growing cactus is kept for the beauty of its form. It must be protected from excessive heat and sun in summer, and seems to do best in cultivation with a bit of shade. It requires light but regular waterings in summer, but let the soil mix dry between waterings, Prone to rot if over-watered. Needs good drainage. Keep warm and dry in winter (10°C) to avoid rot. Not highly tolerant of a great deal of frost. (Frost tolerance 0°C)

Propagation: Seeds (or offsets if available), Grafting is often used to speed growth rate and to create a back-up to plants in collection.


Advertising




Family:
Cactaceae (Cactus Family)
Scientific name: Copiapoa calderana F. Ritter

Origin: Coastal deserts of northern Chile, Antofagasta, North of Caldera (3ª region of Copiapó)
Habitat: These plants live in the mainly in the generally rocky coastal areas. The long tuberous root of this copiapoa is buried deeply in these soils which are very poor in organic matter. The superficial layer is completely composed of "maicillo" (granite) and in the deepest levels are very dense clays which are able to retain some water throughout the summer. In the area where this plants grows there is very little rain but frequent coastal fog, which provides a significant part of their water needs.
Conservation status: Listed in CITES appendix 2.

Etymology:
Copiapoa is named after the city of Copiapó in northern Chile. 'Calderana' refers to Caldera, another location in Chile.
Synonyms:
Copiapoa atacamensis
Copiapoa lembckei Backeberg 1959
Copiapoa calderana var. spinisor F. Ritter 1980
Copiapoa marginata (Sd) Br&R
Copiapoa magnifica
Copiapoa marginata v. magnifica
Copiapoa streptocaulon
Copiapoa boliviana,
Echinocactus bolivianus
Copiapoa calderana is a highly variable taxon with several more or less similar forms that could be described as local varieties as demonstrated by the number of varieties and their synonyms. Some authors suggest that this is a complex species or species aggregate. The several classifications and reclassifications provide evidence of the confusion that rules regarding the names used. It seems that many botanists and hobbyists who have studied Copiapoa in habitat have formed their own concepts of which names should be applied to which plants. It is relatively easy to attribute some key features that dominate in certain populations, but it is equally possible to look more closely at plants in these populations, and find individuals that 'break the rules' and would easily fit another population's dominant characteristics.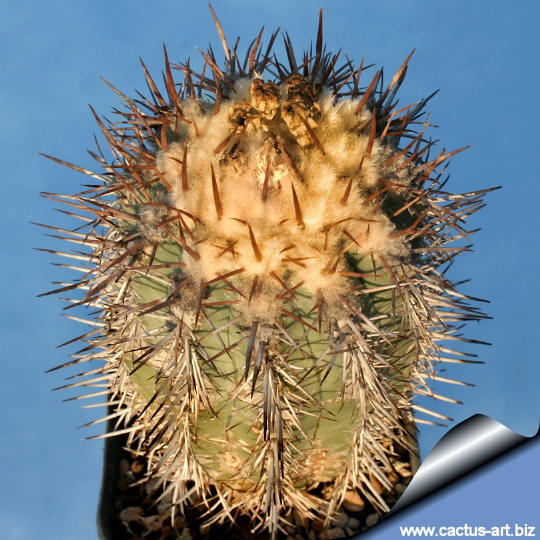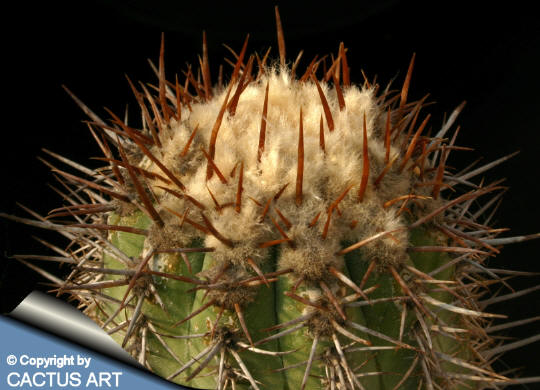 This species has large whitish-grey woolly areoles & stout spines, spines colour vary from reddish to black.
Photo of conspecific taxa, varieties, forms and cultivars of plants belonging to the Copiapoa calderana complex. (This Taxon has lots of synonyms (like many other Copiapoa) with several controversial varieties and subspecies, and comprises several different forms, but where each form is linked to others by populations of plants with intermediate characteristics):