Copiapoa dura KK607 Totoral, Chile 200-300m
Very nice small growing plants with dark purplish-brown stem and thick curved amber-maroon /black spines. Really magnificent!!!


.

.

.

Cultivation: Watering Needs: The location has to be warm and bright, and it has to be in direct sun. Otherwise the bodies tend to elongate in cultivation, but they should be protected from excessive heat and sun in summer. In the spring and late summer, water moderately. Between these times there are dry rest periods. In the winter keep the plant absolutely dry. The roots need a lot of room, so make sure that the pot is large enough. Use regular cacti soil with very good drainage.

Propagation: Seeds (offsets rarely), Grafting is often used to speed growth rate and to create a back-up to plants in collection.



Advertising




Family: Cactaceae (Cactus Family)
Copiapoa dura F. Ritter1963
Scientific name: Copiapoa echinoides (Salm-Dyck) Britton & Rose 1922

Origin: Northern Chile (Near Totoral, Atacama)
Common Names: Duro
Conservation status: Listed in CITES appendix 2.
Echinocactus echinoides Salm-Dyck 1845
Echinocactus cupreatus Poselger ex Rümpeler 1885
Copiapoa cupreata (Poselger ex Rümpeler) Backeberg 1959
Copiapoa cupreata F. Ritter 1959
Copiapoa echinoides var. dura F. Ritter
Copiapoa alticostata Ritt.
Copiapoa cuprea
Description: Solitary, or forming dense clumps. Many different populations with different characteristics.
Stem: Spherical, firm, dark tannish-green to very dark-purple and woolly apically,12 to 20 cm tall, 18 cm in diameter.
Ribs: 11 to 17 , truncated.
Roots: Fibrous.
Areoles: Yellowish, becoming grey with age.
Spines: Maroon-reddish to pure black, straight or (usually) somewhat curved upward.
Central spines: 0 to 3, 1 to 3(-5) cm long.
Radial spines: 5 to 10, 2.5 cm long.
Flowers: Scented, pale yellow, 4 cm in diameter.
Fruit: Brownish-red, round with a few scales 2.5 cm long.
Seeds: Black

Note: This appears to be a very variable species.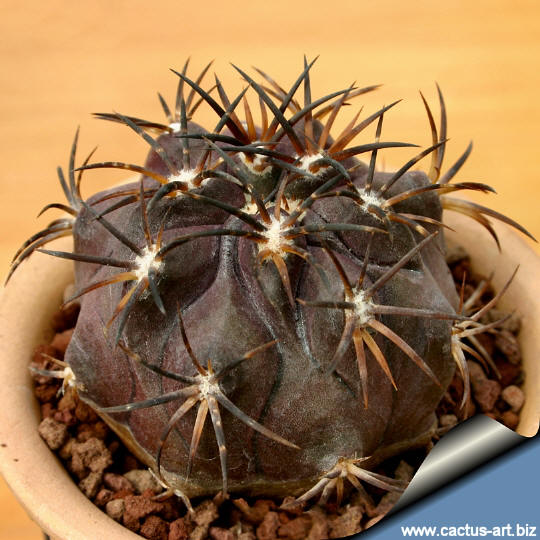 This species has large whitish-grey woolly areoles & stout spines.