Escobaria sneedii v leei SB397 Eddy Co, NM. USA


.

.

.


Flowers outdoors in the rock garden! Winter temps down to -25° C, wet and snow are not a problem.


E. sneedii var. leei SB397 Eddy Co, NM, USA
A plant in the green house

Cultivation: It comes from an area of summer rainfall; keep drier in winter (but for outdoors cultivation it is very resistant to wet conditions, too). Very cold resistant, Itcan easily be grown outdoors in areas with minimum winter temperatures of - 25°. Needs full sun to light shade.

Propagation: Seeds (no dormancy requirement, they germinate best at 25°C) or usually by offsets (readily available), or occasionally grafted.


Advertising




Family:
Cactaceae (Cactus Family)

Scientific Name:
Escobaria
sneedii
ssp. leei (Rose ex Bödecker) D.R.Hunt 1997

Published in: Cactaceae Consensus Initiatives, 4 : 5, 1997
Common name (s): Lee's pincushion cactus
Type: The type specimen is at the U.S. National Herbarium (U.S. # 72134). The type locality "Rattlesnake Canyon 30 miles southwest of Carlsbad at an elevation of 5500 ft W.T. Lee, 1927"

Basionym: Mammillaria leei

Distribution: USA (New Mexico, Eddy County, Guadalupe Mountains)

Conservation status: Listed in CITES appendix I.

Threatened This species is quite frequent in its very small area of distribution. It is popular with collectors and has been subject to commercial collecting in the past, but is now propagated commercially on a large scale and is readily available and very common.
Habitat: Primarily it occurs on the tops of limestone ridges in areas of broken terrain, terraces, rim rock or in poorly developed limestone soil, the majority of the plants grow in cracks in the rocks on north-facing slopes between 1,400-1,800 m in elevation, rarely under cover, usually sparsely distributed among the shrubby vegetation of the high Chihuahuan desert (Shrub and interior Chaparral ), a plant community dominated by large almost arborescent shrubs such as Dasylirion wheelerii and Yucca torreyi in association with Muhlenbergia, Agave lechuguilla, Opuntia phaeacantha, Dalea sp. and Berberis trifoliolata.
Etymology: The genus name "Escobaria" recalls the two Mexican naturalists and brothers, Romulo and Numa Pompilio Escobar, of Mexico City (late 1800s to mid 1900s)
The specific epithets "sneedii" has been named in honour of "J.R. Sneed" who first collected this plant in 1921 in the Franklin Mountains of El Paso County, Texas
The subspecies "leei" Has been named after "Willis T. Lee" (a famous geologist sent on the National Geographic expeditions in the 1920s to assess Carlsbad Cavern for national park status) who first collected this plant in 1925.
Escobaria leei Rose ex Bödecker,
Mammill.-Vergl.-Schluss., 17, 1933; cf. Gray Herb. Card Cat., Issue 145
Coryphantha sneedii var. leei (Rose ex Boed.) L.D.Benson,
Cact. Succ. Journ. (US), 41: 189, 1969
Escobaria sneedii var. leei (Rose ex Boed.) D.R.Hunt,
Cact. Succ. J. (GB), 40(2) : 30, 1978
Escobaria sneedii subsp. leei (Rose ex Boed.) D.R.Hunt,
Cactaceae Consensus Initiatives, 4 : 5, 1997
Description: Grows in dense clusters with as many as 100 or more stems in a clump.
Stem: Each individual stem is 1.5-6(8)cm tall and 1-2,5 cm in diameter.
Tubercles: Cylindrical 5 mm long; On mature stems with upper surface grooved.
Spines: 30 to 90 very small radials, typically white often brown at tip, fading to grey, slender and bristle-like, mostly about 1-2.5 mm long, radiating from areole and appressed against plant, sometimes with one to few short porrect centrals.
Roots: Fibrous.
Flower: Brownish-pink in early April-May. Showy smaller, usually not opening widely, 1.2 cm long up to 1.5 cm wide; tepals brownish-pink (rarely pale yellowish, or whitish) in colour, usually with midstrip darker; stigmas white to pink;
Fruit: Small elongate, 1-1.5 cm long, green to somewhat reddish;
Seeds: About 0.8-1mm long and 1.5 mm broad, kidney-shaped, pitted, dark brown, with hilum lateral.
Notes: The subspecies leei differs from other Escobaria in densely its clumping habit, small stem size, and tightly, almost pectinate, spination. The wild population intergrades with other forms of E. sneedii in the Guadalupe Mountains. This is apparently a neotenic variety of the species in which juvenile spination is retained throughout the life of the plant. This species is closely related to E. sneedii var. sneedii from which it differs by having deflexed spines, rather than spreading ones, brownish - pink flowers as opposed to rose-magenta ones, and seeds 1 mm long as opposed to 0.75 mm in length (01,02,05).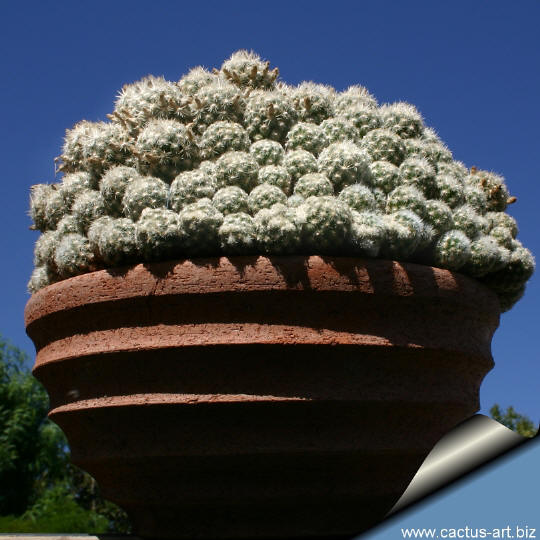 In cultivation the Escobaria sneedii v. leei will form beautiful large mounds with hundreds of small heads.