Euphorbia canariensis
This plant is furnished of dark shining spines in pair. Perfectly regular, straight to cow-horn shaped, spreading laterally in rows along the four corners of the columns, and are fairly short- easy to avoid with care, or gloves.


Description: It is small succulent tree, 1 to 3(-4) m high. It clumps profusely from the base, one trunk may produce more than150 branches as thick as a man's arm.
Stems: Fleshy, stout, highly succulent, columnar, upright growing, cactus-like. They are deep green to reddish, 4 (rarely 5 or 6) angled up to 8 cm in diameter slightly spiralled. The surfaces, which are from 2 to 5 cm broad, are plain with a clean and smooth epidermis. The edges are obtuse and of a brown colour. The lateral branches forms an angle at their base, but are straight in the rest of their growth.
Spines: This plant is furnished of dark shining spines in pair. Perfectly regular, straight to cow-horn shaped, spreading laterally in rows along the four corners of the columns.
Flowers: Dark red to reddish-green in monoecious heads, surrounded by an involucrum consisting of 1 leaf with 5 division, which have externally 5 glands alternating with them. Males naked monoandrous, articulated with their pedicel surrounding the female, which is in the centrum. Females naked solitary. Ovarium stalked. Stigma three forked.
Fruit: Maroon red on adult plants. The fruits hang out of the involucrum and each contain one suspended seed.

Remarks: Itís one of the more poisonous spurges. The latex which is very bitter and acrid contains diterpenes and is considered highly toxic.





USES:

It is traditionally used in the canary island for fuel after it is dried. (a big plant may provide enough wood for one person for all winter.
This species is also widely used in horticulture as a strong long lasting grafting stock for rare slow growing, sensitive species of Euphorbia.





Advertising




Family: Euphorbiaceae
Scientific name: Euphorbia canariensis L.
In: Sp. Pl.: 450 (1753)
Common English Names include: Commonly known as the Canary Island Spurge, Canary Candelaber Spurge or as Hercules Club to horticulturalists
Origin: Endemic to canary islands.
Habitat: Grows natively in the arid and humid environment of the narrow coastal belt, from sea level to 0 metres to 1,100 metres. It occours in dry lava formations and mainly on the south facing mountain slopes on all islands. It is one of the most abundant plants on the
sea-cliffs.
Conservation status: Listed in CITES appendix 2.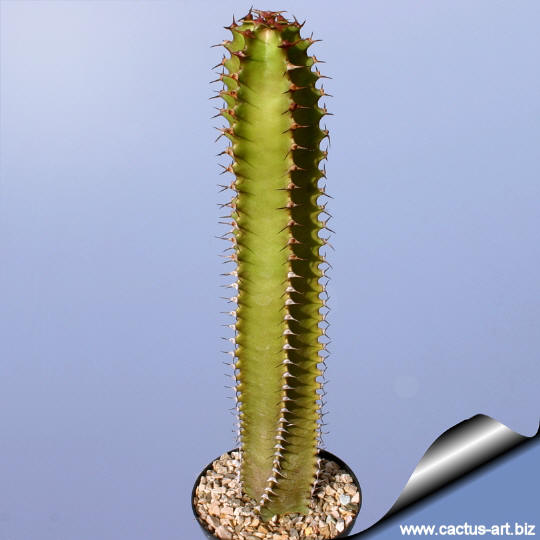 This is one of the most attractive and 'neat' columnar Euphorbias, and makes a striking, beautiful landscape plant.
Cultivation: It is an easy species to grow that is suited for any well drained soil in full sun. Give the plant an airy growing medium which mainly consists of non organic material such us clay, pumice, lava grit, and only a little peat or leaf-mould. Water regularly during the active growing season. No water should ever be allowed to stand around the roots. Keep almost completely dry in winter. It is a moderately fast grower, and will quickly become large landscape masterpieces in just 3-5 years. Only downside is from strong winds, the columns often smash into each other, causing permanent scarring... best to plant in such a location where winds are not a big issue. If plant becomes very red, this is a sign that the roots have not developed properly. It is a relatively fast growing and long lived plant and once established, it will be content in its position and with its soil for years. It can tolerate moderate shade, and a plant that has been growing in shade should be slowly hardened off before placing it in full sun as the plant will be severely scorched if moved too suddenly from shade into sun. Propagation: The plant can be reproduced by seeds or cuttings.