This Euphorbia looks much like a cactus, although the two are not closely related, it is a small rapidly suckering plant that will form dense multi-stemmed cushion-shaped clumps up to 2 m wide.



Description: It is a den

s

e succulent shrub growing to 60 cm tall, forming multi-stemmed cushion-shaped clumps up to 2 m wide.
Stems: Erect, succulent, 4 sided (almost square) that

look

superficially like a cactus. Light green to glaucous blue color

,

depending upon light.
Spines: Brown

and

short

,

but sharp in pairs of 6 mm spines on the angles of the ribs, spaced about 1 cm apart up the stem.


Advertising




Family: Euphorbiaceae
Scientific name: Euphorbia resinifera O. Berg & C. F. Schmidt
Place of publication: Darstellung Beschr. off. Gew. 4: t. 34. 1863
Origin: It is native to Morocco, where it occurs on the slopes of the Atlas Mountains in the surroundings of Marrakesh.
Common Name: Resin spurge
Synonyms: Euphorbia sansalvador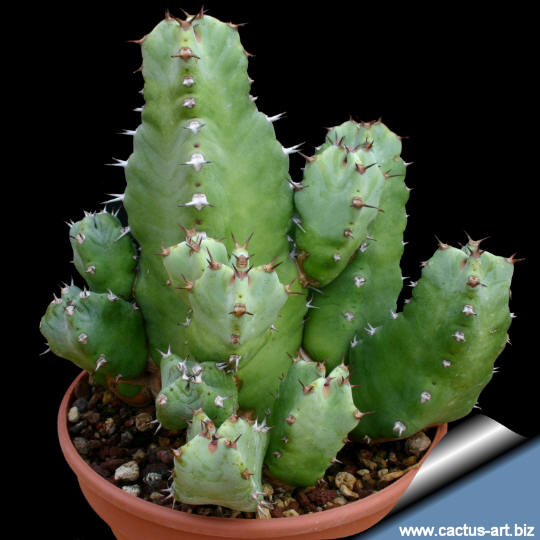 Cultivation: Commonly sold at garden outlet centres they are some of the easiest and care-free Euphorbias to grow, both in pots and in the ground in areas with a mild climate, but they can even be grown indoors. They grow well in a very draining mineral potting substrate, but they aren't picky about soil. During the summer they enjoy average feeding and watering. When dormant, plants are relatively cold tolerant. They will rapidly mound, branch and spread. These are widely adaptable, able to take full sun that helps the plants to keep their compact growth-form, but different clones vary in their tolerance of full sunshine.
Propagation: It is propagated by cuttings (It branches enthusiastically and offsets are readily available). If you remove an offset, remember to let it dry for a week or so, letting the wound heal (cuttings planted too soon will easily rot before they can grow roots). It is better to wash the cut to remove the latex.
Warning: As with all other Euphorbias when a plant get damaged it exudes a thick white milky sap known as latex. This latex (resin) is poisonous contains some of the most potent irritants known. The very high irritant activity of the latex may be ascribed to resiniferatoxin (A potent toxin). The latex is particularly dangerous for the eyes, skin and mucous membranes. It can produce burning pain in bones. Pains in limbs and paralytic weakness in the joints. Important respiratory and skin symptoms, terrible burning pains. So pay extreme attention not to get any in your eyes or mouth.
Cultivated plants must be handled carefully.