Ferocactus echidne forma mostruosa
This cultivar shows many growing variations, with different crested, monstrous and normal shapes.
This plant is very rare in collection and highly priced.


.


Propagation: By vegetative propagation grafting or stem cuttings from adult plants.



Advertising




Family: Cactaceae (Cactus Family)

Scientific name: Ferocactus echidne (A. P: de Candolle) Britton & Rose 1922
Forma mostruosa

Origin: Garden origin (Nursery produced cultivar)

Conservation status: Listed in CITES appendix 2.
Description: It forms large low clusters of firm, rubbery-textured green tangled, monstrous stems.
Stem: The stem surface is naked or with a variable quantity of spines or woolly areoles, and the plant looks more like some non-cactus succulent than a cactus. Sometimes it will have a normal "patch" and remain mostly monstrous. The ribs (if present) are slender acute and not clearly tuberculated, but the monstrous areas are bumped and strangely corrugated.
Spines: Amber coloured, thin aciculate.
Central spine: 1 erect 2-5 cm long.
Radial spines: 4-9 radiating shorter than the central.
Flowers: Not known.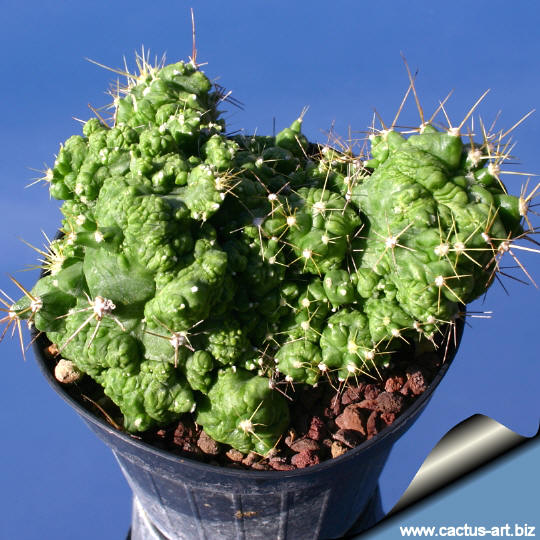 The graft can be easily removed and rooted.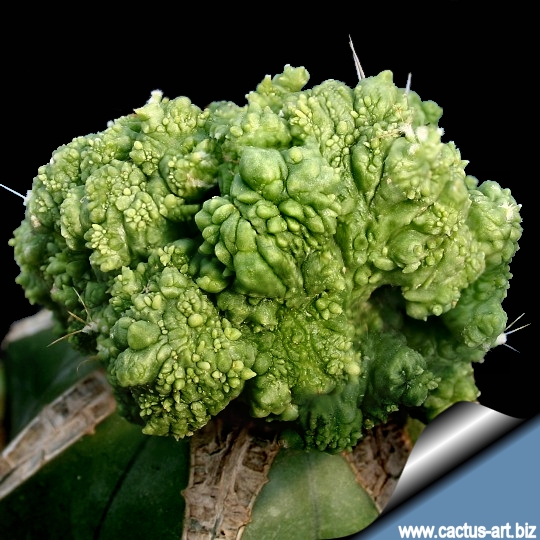 Cultivation: It is a fairly easy plant to grow both grafted or in its own roots. Use very draining soil, water during the aestival growth cycle (this plant need plenty of water) But needs to be avoided wetting the bodies of these plants while they are in sunlight. A wet cactus in the sun light can cause sun burning which can lead to scares or even fungal infections and death. Needs full sun but during the summer it is best to keep the plants outside partially shaded where the temperature can rise to over 30 C with no harm to the plant. Furnish good drainage and use a an open and free draining mineral compost that allows therefore roots to breath. Keep dry at 10°C in winter, but can tolerate sporadic light frost. Feeding may not be necessary at all if the compost is fresh then, feed in summer only if the plant hasn't been repotted recently. Do not feed the plants from September onwards as this can cause lush growth which can be fatal during the darker cold months.