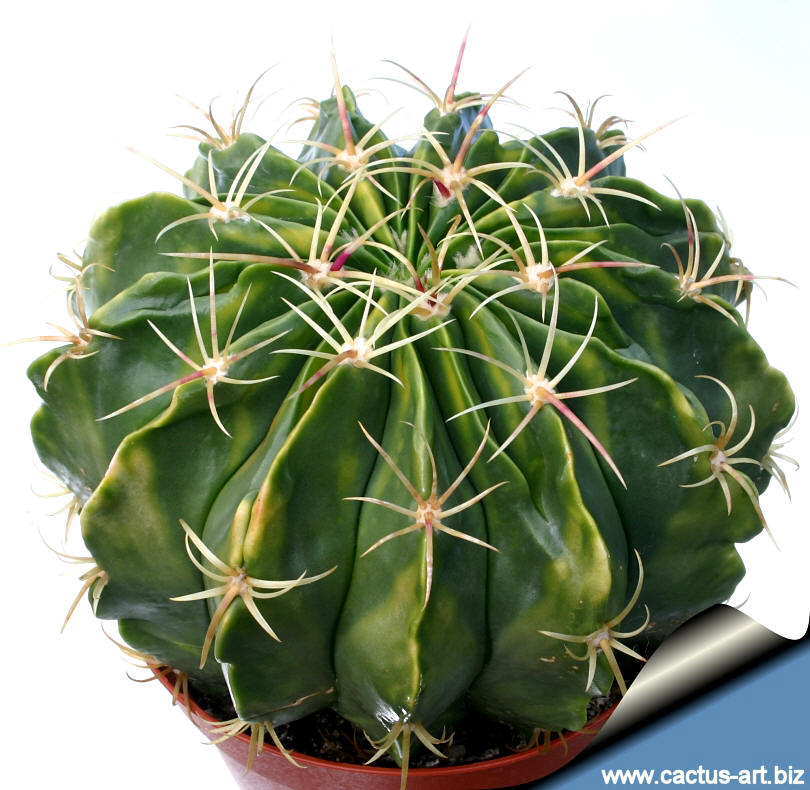 Ferocactus macrodiscus
A rare variegated specimen
Description: A medium-sized barrel cactus with a blue-green epidermis.
Stem: Flat, solitary, 30cm in diameter (but up to nearly 60 in some cases)
Ribs: 16 to 21.
Areoles: 5 to 10 mm long, with yellow felt.
Spines: Yellow or red, and curved.
Central spines: 1 to 4, up to 3,5 cm long.
Radial spines: 6 to 8, 2 cm long.
Flowers: Bright purple/pink and white striped, about 4 cm of diameter
Blooming season: From early spring into summer .

Variegated Ferocactus can be found (although not commonly) in cultivation, and some of these variegated plants have a place in most collections. All variegates are mutants. Something has gone wrong with the cellular structure of the growth tip (apical meristem) of the plant. As a result of this mutation, chlorophyll is missing from some or all layers of the plant's epidermis. The odd variegate appears in many seedling batches in a small percentage, and is generally separated from normal plants. Variegated plants grow more slowly, and are generally smaller than non-variegates of the same species. Coloured areas are also generally weaker, and more susceptible to fungus, sunburn and other defects. A large well grown variegate Ferocactus is truly an achievement. These are harder to grow well than they appear.

Cultivation: Slow-growing to start, they do well in cultivation. Suited for any rich, well drained soil (Ph 6). Grow it in full sun throughout the year. In winter keep completely dry at 10°C, but it can tolerate sporadic light frost. Anyhow it's problematic if the temperature goes below 5° with high humidity during the winter rest. Even adult specimens are affected by wounded spots in their epidermis. Less watering than the standard for other ferocacti, it's necessary to avoid wetting the bodies of these plants while they are in sunlight. A wet cactus in the sun light can cause sun burning, which can lead to scars, or even fungal infections and death. It is apt to undergo attacks of red spiders, if it is placed near fruit trees.
Propagation: Seeds are the only way of reproducing.

Advertising
Family: Cactaceae (Cactus Family)

Scientific name: Ferocactus macrodiscus

Origin:

Garden origin (Nursery produced cultivar)

Conservation status: Listed in CITES appendix 2.


Ferocactus macrodiscus ssp. macrodiscus (Torr. & Grant) Britton & Rose

Echinocactus macrodiscus

Bisnaga macrodisca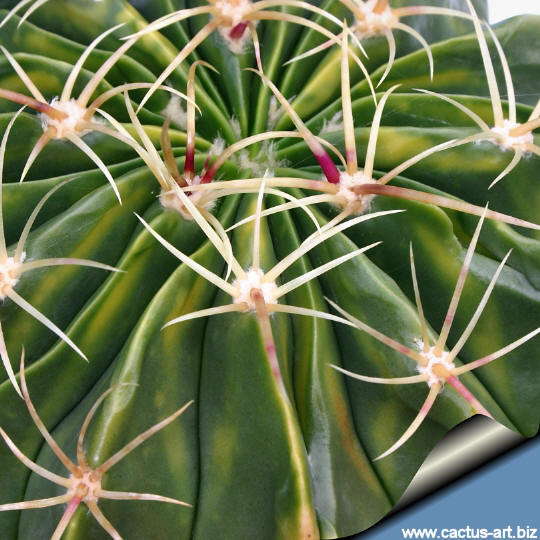 A large, well-grown variegated Ferocactus is truly an achievement.