Description: Small bulbous perennial.
Bulb: Clustering, teardrop-shaped with a glossy surface, clothed in peeling, papery tunics that prevent water loss 2-5 cm broad that necks above soil.
Leaves: A pair, opposite, or rarely three, fleshy, spreading, oblong-lanceolate, acute, undulated, delicately pale green and spotted on the face, 5-7 cm long and 2-3 cm wide, narrowed at base.
Flowers: Perianth greenish, rounded-campanulate, nearly or quite 6-7mm long, the segments falcate; pedicels five to six lines long, the lower ones drooping; raceme loose, twenty to thirty-flowered, oblong, 7. to 10 cm. long, 3 to 4 cm broad; scape firm, unspotted, terete, 7 to 10 cm long.
Blooming season: Spring.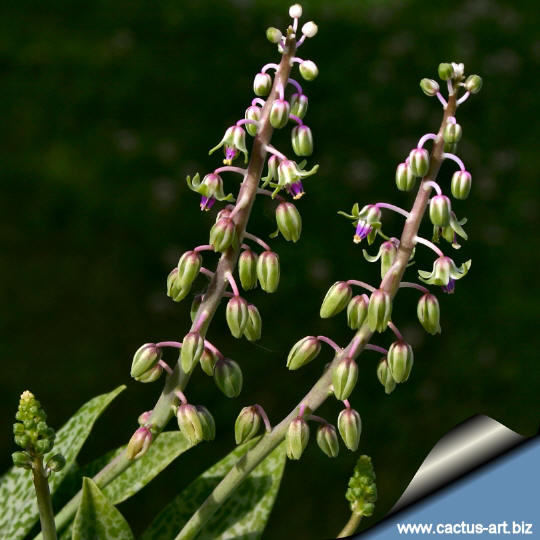 Wonderful miniature with delicate green, purple and white bell shaped flowers drooping on a twenty to thirty-flowered loose raceme, ,