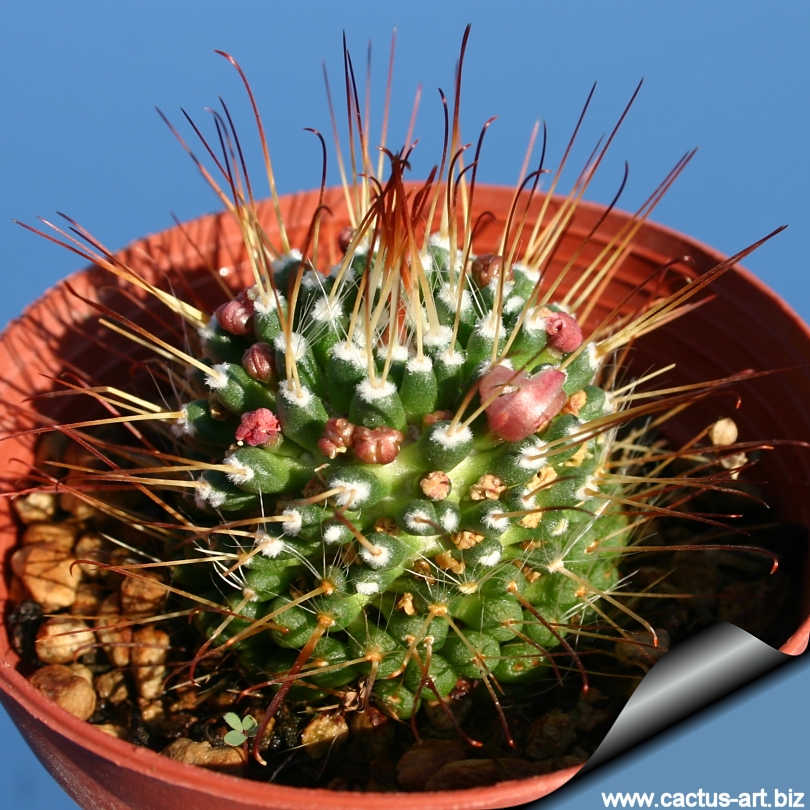 A very odd plant with colourful spines.

What is this plant? This rare and unusual cactus was labelled as an improbable but stricking hybrid between a Dolichothele longimamma and Mammillaria spinosissima cv. UN PICO, however the plant is presumably a monstrous form of Mammillaria of an unknown Mammillaria species.

This plant is also very similar (but not the same) to Toumeya papyracantha x Echinocereus knippelianus hybrid, actually this second species has more flattened, curved and shorter central spines, and more thin white radial spines per areole. Furthermore the "Toumeya papyracantha x Echinocereus knippelianus hybrid" has swollen pink roots and its flesh is pink too.

Description: Clustering matforming.
Stem: 4 to 5cm wide, up to 4 cm tall, flattened and soft.
Ribs: Vertical or spiralling formed by a row of elongated tubercles.
Central spines: Bright orange and yellow, flexible with a slightly bent tip, but not hooked. They are also a little flat and not pungent.
Radial spines: Very few (often absent) glassy white, bristly.
Roots: Tuberose, juicy.
Flowers: Pink in a ring around the crown. They usually fail to open completely.




Advertising