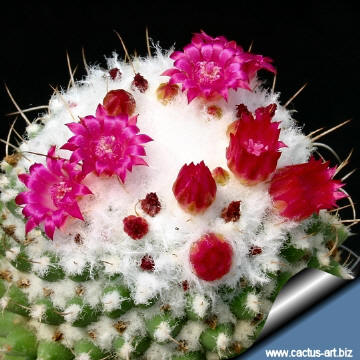 Description: Solitary, columnar upright-growing species, usually erect but sometimes sprawling that looks a bit like a green pine cone, stem blue green with latex up to 8-10 cm in diameter, 30-40 (60) tall. Tubercles Prominent, globular conical clothed in white wool with few or no spines.

Flowers: Many rose to pinkish purple irregularly distributed near crown, up to 10 mm long, 12 mm in diameter, with a very long flowering time from spring to summer, Fruit: Club shaped, red.
A rare peculiarity of this plant is that the flowers are produced either from the axil and from the apex of the tubercles too.