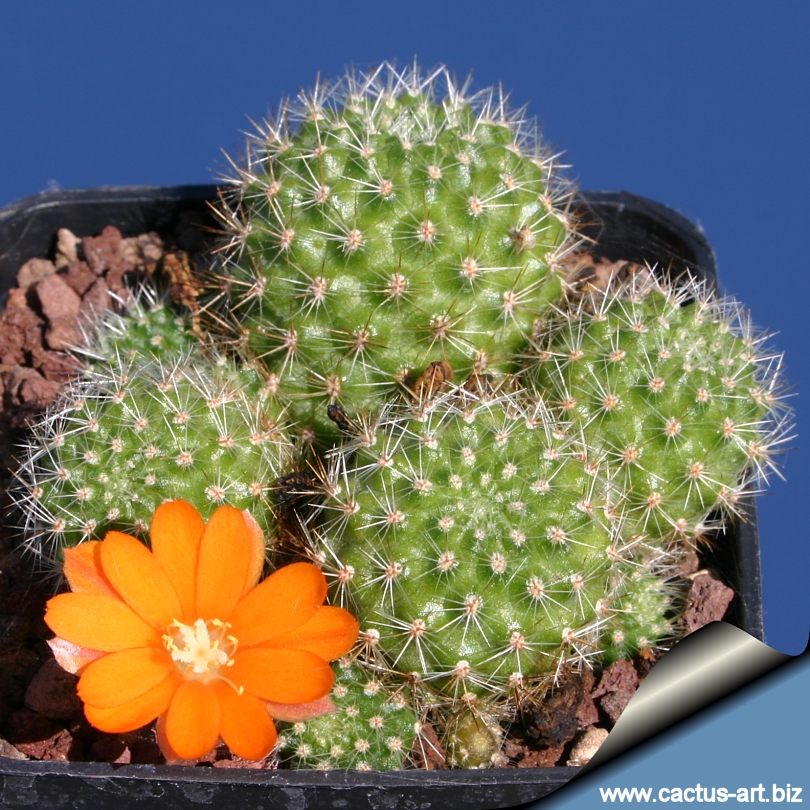 FR 766 Rebutia pulvinosa Bolivia, Tarija, north-east Tarija, gulley off Rio Pilaya
It is a clustering miniature plant with bright orange flowers.
The flowers come in spring and grow from the base of the plant.



Advertising
Family:
Cactaceae (Cactus Family)
Scientific name: Rebutia pulvinosa F.Ritter & Buining Ritt. & Buin.
In Taxon: 12 :29, 1963) in Descr. Cact. Nov. et Comb. Nov. Ш: 5, Dec. 1963
Origin: South Bolivia (Tarija)
Conservation status: Listed in CITES appendix 2.
Aylostera pulvinosa (Ritt. et Buin.) Backeb.,
Descr. Cact. Nov., 3 : 5, 1963
Conservation status: Listed in CITES Appendix II

Description: R. pulvinosa is a quite small, sparsely spined and highly clustering plant, it quickly produce several 'babies' around it, forming a low, compact and spreading "pulvinus" (cushion)
Stems: Individual heads , light-green, up to 3 cm diameter.
Ribs: Divided in spaced tubercles in two downward spirals. .
Areoles: Oval, white and felty.
Central spines: Up to 6 more long, whitish, very thin, very short, and soft, but they can still poke.
Radial spines: 15 to 22
Flowers: Bright orange yellow, 1.5-3 cm in diameter. Flowers emerge from the base of the plant between the parent and offspring, resulting in a superb display in mid season.
Blooming season: They usually flower following a winter rest. Flowers are produced abundance from spring onwards and remain open for about six days.


Cultivation: They are small growing cacti and are ideal candidates for bowl gardens where a small scape can be created with great effect. Best in light shade, will scorch in full sun, which makes it good for those that are searching for a cactus that does well in partial shade. Water regularly in summer but do not over-water. Keep dry in winter or very slightly moist in winter at a min. temp. of approx 5 degrees C. (However hardy down to -5°C.)
It is better that they be repotted regularly. Repotting will increase the number and size of stems, and will increase the number of flowers produced. Repot yearly until it reaches about 100 mm in size, then every two or three years will suffice. Repotting is best done at the end of winter, but it can be done at other time, too. Do not water for a couple of weeks after repotting, in order to reduce risk of root rot via broken roots.
Propagation: Offsets, seeds