Sclerocactus spinosior ssp. blainei "schleseri" SB1540 from Nye County, Nevada, USA.
This plant is one of the most beautiful in the genus it has wonderful spines: pubescent in young specimens, papery and somewhat flattened when adult.


.

.


Pubescent spines of a Juvenile plant.

.


A juvenile specimen

The transition to adult spination

.


Photo of conspecific taxa, varieties, forms and cultivars of Sclerocactus spinosior:


Advertising




Family:
Cactaceae (Cactus Family)
Scientific Name: Sclerocactus spinosior ssp. blainei (S.L.Welsh & K.H.Thorne) F.Hochstätter
(Ex schleseri)
in Succulenta, Netherlands74e (1) 38-44, 1995

Conservation status: Listed in CITES appendix 2.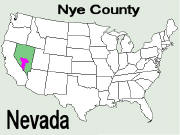 Distribution: This very rare cactus is confined to the western USA. In Nevada (Nye County and Lincoln County); and in Utah (Iron County) The population in Nye Co. is separated by more than 110 km from the colonies of Lincoln Co, but no intermediate plant colony are reported between this two localities. The number of wild individuals is very limited. Type locality: Nye county

Habitat: Grows in salt desert in bottom valley plain at an altitude of 1450-1850 m ASL. among shrub and grass or in open areas on alkaline calcareous and volcanic gravely-clayey soils

Etymology: The genus name "Sclerocactus" derives from the Greek word "sclero" meaning "hard ", "cruel". and the word "cactus" (an old genus name)
The species name "spinosior" derives from the Latin adjectives "spinosus" ("thorny") and the comparative suffix "ior" that means "more so, to a greater degree; more-, -er" ( ="the thornier").
The subspecies name "blainei" is named in honour of Blaine.
Sclerocactus blainei Welsh & Thorne
In: Great Basin Naturalist 45 (3):553-555, 1985. (Basionym)
Sclerocactus schleseri Heil & Welsh
In: Great Basin Naturalist, 46 (4):677-678, 1986
Sclerocactus spinosior (Engelmann) Woodruff & L. Benson var. schleseri (Heil & Welsh) Hochstätter
In: Succulenta, Netherlands, 71 (1): 247-262, 1992.
Sclerocactus nyensis 72 (3):143, 1993.
Pediocactus spinosior spp. blainei (Welsh & Thorne) Halda 1998
Pediocactus spinosior spp. schlesseri (Heil & Welch) Halda 1998
Morphology (Identifying Characteristics):
Habit: Ovoidal and generally solitary.
Stem: 3-15 cm tall.
Spines: Spines are pubescent in young and early reproductive plants; The central spine number varies, and the number of hooked spines may number as many as six, with one central more developed, they are papery sometimes flattened, longer and denser than in S. spinosior.
Flower: Pink-purplish borne at the apex of the stem, blooming in late-spring (May-June).
(In cultivation in April )

Note: Red flowers are common in species pollinated by birds (but also bat and insect)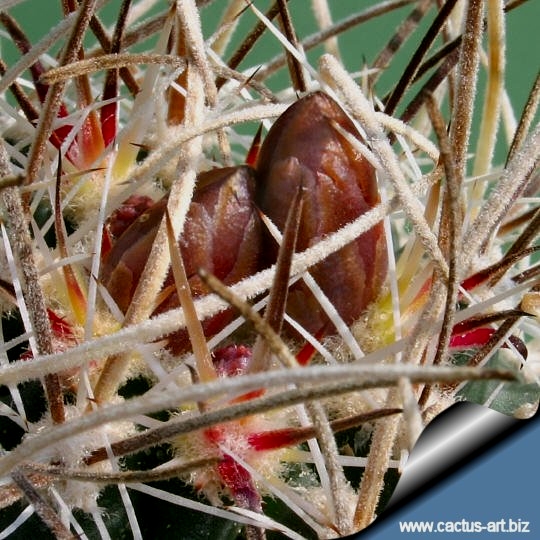 Buds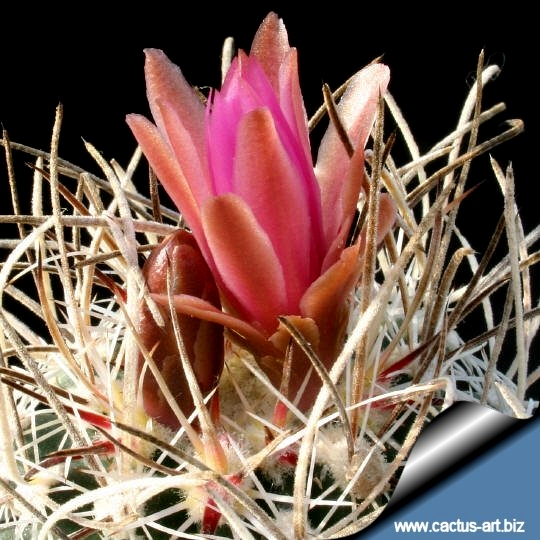 Flower
Cultivation: This plant is very rare in cultivation, it is difficult to grow on its own roots and to propagate. Mature individuals easily rot and die especially after planting. The seeds germinate with extreme difficulty and a low rate of success, seedlings do not do well either, and more die each year. S. blainei is extremely xerophytic and adapted to very dry soils, but plants grafted on hardy Opuntia compressa stock are very easy to grow and no special skill is required, they can stay in a non heated green house. (min tem -20°C) ... This interesting cactus, continues to be a particular prize among specialist collectors.
Propagation: Seeds are extremely difficult to germinate (only 2-3 percent of seeds germinate) The germination is really difficult and if some seedling finally sprout, as they start to grows they disappear one by one. Grafting is often used to speed growth rate and to create a back-up for plants in collection.