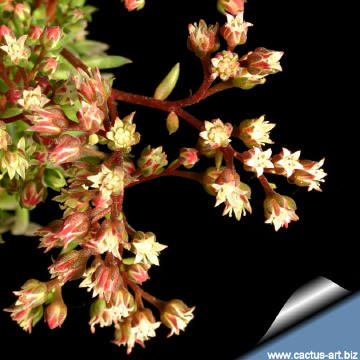 The inflorescence is a dense, flattish, leafy panicle up to 10-15cm with 50 to hundreds minute, whitish flowers with red-tipped petals.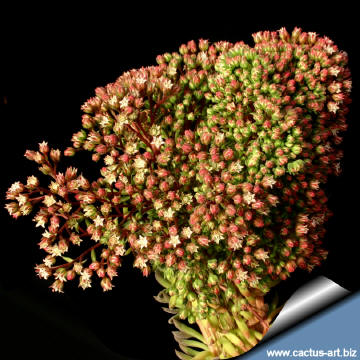 Description: S. yunnanensis is a small rosette succulent about 5-10 cm tall that can eventually develops into dense clumps and blooms generously.
Rosettes: Upright, closely packed 2.5 to 3.5cm in diameter.
Leaves: Small (1-3cm), fleshy, dark green, flattened, almost terete, acuminate, each with a mucro (soft point) at the tip and patterned with purplish brown speckles and short white hairs.
Flowers: The inflorescence, on a densely leafy deep red peduncle, is a dense, flattish, leafy panicle up to 10-15cm with about 50 minute, whitish flowers with red-tipped oblong-lanceolate petals, 3-4mm long. The flowers scent is of a sweet-sour pungency rather attractive to some but, at any rate, not unpleasant.
Blooming season: Autumn or early winter.
The plant shown here is of the type called "cristate", or "fasciated", in which growth is contorted into strange forms. The crested development is sometimes found in all, of the plant although some plants are not very strongly cristate and are partly normal. The fan-like crest can also displays bloom-heads mostly normal in shape.


Cultivation: These plants like plenty of light and can tolerate full sun, but donít worry if the plants arenít in the sunniest of place; Sinocrassula will also thrive in a less sunny spot and stays relatively small. This species prefers dry conditions and it is best to refrain from watering it until the rootball has dried out completely. The plant can then be immersed in water and well drained and left until it has completely dried out again. Its succulent leaves will store enough water to survive for long time
They can be grown outdoors on rock crevices with favourable water regime, eastern slopes alpine house, poor, drained soil, shading in summer.
Propagation: This is a tough plant which spreads aggressively, both vegetatively by dropped leaves that root easily and by seed. Sow the seeds in winter (13-18įC) uncovered, they will germ in about 1-3 months, division of old plant can be made in spring and late summer; cuttings in summer
The crested variations can be propagated only by vegetative means, from the crested parts, but seed of such a plant is likely to produce normal progeny.