Strombocactus disciformis forma cristata.
A beautiful line of flowers!!!


Description: This is the rare beautiful crested form of Strombocactus disciformis.
the standard species is usually a singled stemmed small geophytes cactus.
Stem: The body is flattened or spherical, 3 to 8 cm high, reaching 20 cm in age, and 3 to 9 cm across. The crown is slightly depressed and felted. The colour is blue-green with greyish tinge, the base covered with brown corky spots in age. It is composed of hard, spirally arranged rhomboid and imbricate tubercles, 1 to 1.8 cm high. These tubercules are flattened and almost truncated above and somewhat horny or keeled below.
Spines: 4 to 5, erect and dark grey at the tips and pale grey at the base, 1.2 to 2 cm long, they become calcified, they are caducous and in age fall at the stem base.
Roots: Strong napiform (turnip-like).
Flower: Arise on the crown, measure about 3.5 cm in length and breadth, are shiny cream coloured with occasional spots at the tip and in the throat, The filaments are white or reddish, the anthers yellow. The 8 to 10 lobed stigma are white or yellowish.
Fruit: 7 mm across, splits down its length.
Seeds: Very small.
Blossoming time: flowers emerge early in spring and are freely produced throughout the summer, remaining open for several days.


The cause of cresting: The cause of cresting is not fully explained. Biologists disagree as to why some plants grow in this unusual form. Some speculate that it is a genetic mutation. Others say it is the result of a strike of lightning or freeze damage, but whatever the stimulus, the growth point of the stem has switched from a geometric point, to a line, which folds and undulates as the crest expands. Though these crested Strombocactus are very rare, cresting occurs naturally, and can be encountered in many other cactus species.








The effect of different grafting stocks:


◄ (Above) A plant grafted on Myrtillocactus geometrizans stock: the plant remain in a juvenile condition with short spines, no flowers, small rounded tubercles and a lettuce green epidermis. The crest is unstable and tends to break in individual apexes, the growing rate is high, the stem is swollen and unnatural.


◄ (Below) A plant grafted on a short Opuntia compressa stock: the plant soon develops adult features: long spines, plenty of flowers on the apical line , rhomboidal tubercles and the typical colour of mature Strombocactus. The crest is very stable, the growing rate is moderate and the plant looks very natural.


Advertising




Family: Cactaceae (Cactus Family)

Family: Cactaceae (Cactus Family)

Strombocactus disciformis forma cristata

Origin: Garden origin (Nursery produced cultivar) Crrested plants are also foun in habitat even though with a very low frequence.

Notes: This plant is an original clone from Cactus Art Nursery

Conservation status: Listed in CITES appendix I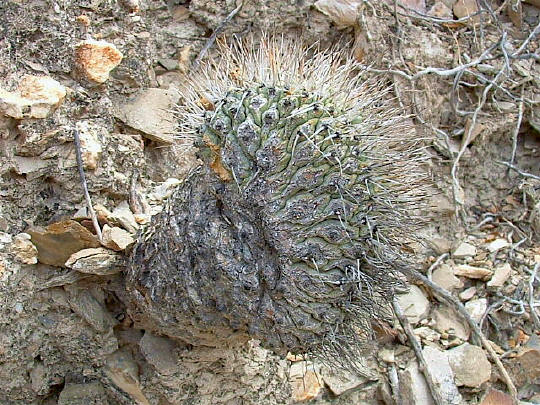 Photo & © copyright by Jürgen Menzel
Strombocactus disciformis (v. seidelii) cristata (In habitat)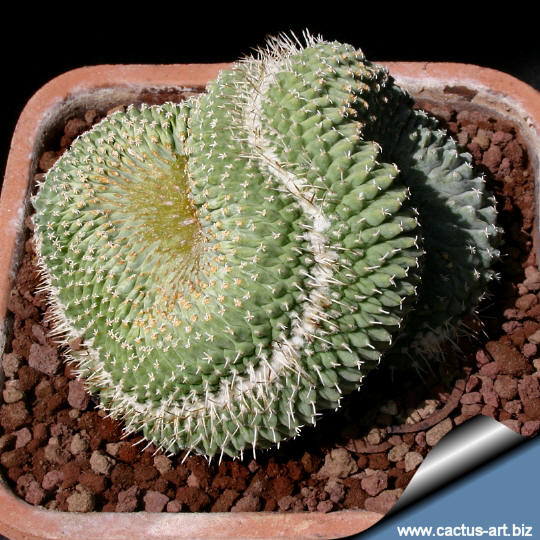 This plant is very rare and beautiful.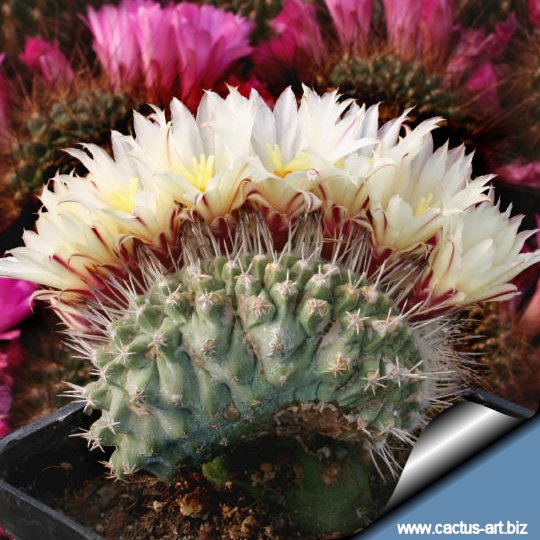 Flowers emerge early in spring and are freely produced throughout the summer, remaining open for several days.

Cultivation: It likes a sunny position. It does best in a mineral soil; good drainage is essential. Water sparingly during the summer months and keep dry in winter. It can tolerate moderate shade, and a plant that has been growing in shade should be slowly hardened off before placing it in full sun, as the plant will be severely scorched if moved too suddenly from shade into sun.

Propagation: Grafting, since it is difficult for cuttings to root.

Photo of conspecific taxa, varieties, forms and cultivars of strombocactus disciformis.