Strombocactus pulcherrimus is a superb slow growing miniature plant from Mexico.
The magenta blooms are freely produced throughout the summer.


Description: This plant is very similar if not identical to S. disciformis the only noticeable difference is the colour of the flowers.
Habit: It is a rare geophytes, usually solitary.
Stems: The body is flattened or spherical up to 3 cm tall, 8 cm in diameter. The crown is slightly depressed and felted. The colour is blue-green with greyish tinge. It is composed of hard, spirally arranged rhomboid and imbricate tubercles, 1 to 1.8 cm high. These tubercules are flattened and almost truncated above and somewhat horny or keeled below.
Roots: Strong napiform (turnip-like).
Spines: 4 to 5, erect and dark grey at the tips and pale grey at the base, 1.2 to 2 cm long.
Flowers: Arise on the crown, measure about 3.5 cm in length and breadth bright magenta.
Blossoming time: flowers emerge early in spring and are freely produced throughout the summer, remaining open for several days.
Note: Some botanists believe that a specific rank for this taxon is not necessary.



Advertising




Family:
Cactaceae (Cactus Family)

Scientific Name:

Strombocactus disciformis ssp. esperanzae Glass & S.Arias
Publication : British Cactus & Succulent Journal, Volume 14, No. 4, Decembre 1996

Distribution: Mexico Xicho (Guanajuato)

Habitat:This plant grows in rock crevices in nearly vertical limestone cliffs along with Turbinicarpus alonsoi

Conservation status: Listed in CITES appendix I
Etymology: S. disciformis esperanzae has been named in honour of Missis Esperanza Benavides de Valásquez a local functionary who helped in localize the plant in flower.

Synonyms:
Strombocactus pulcherrimus J. J. Halda (Basionym)
Publication : Cactaceae etc. 3:88 1996
Ariocarpus pulcherrimus (J. J. Halda) J. J. Halda stat. nov.
Publication : Acta Mus. Richnov. Sect. Nat.,5(1): 37 (1998)
Strombocactus disciformis fa. minimus Don Pedro & Riha 1997
Strombocactus disciformis var. esperanzae (Glass & S. Arias) don Pedro & Riha 1997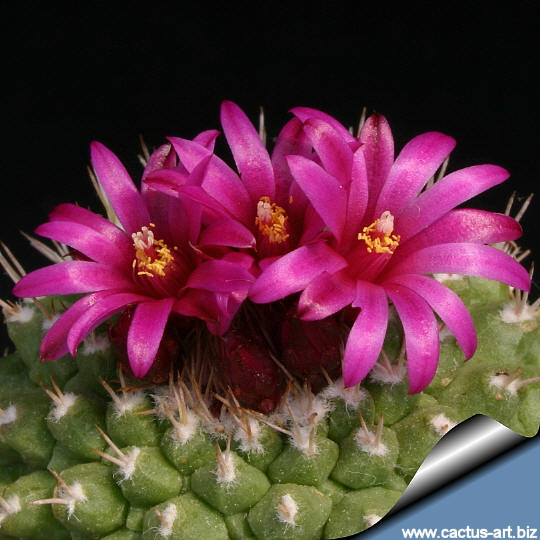 Cultivation: This plant has the same needs of the standard S. disciformis.
Propagation: Seed, At first seedlings are very very small, they take one or two years to reach the diameter of 1 mm!!! Once they have reached 4 years old or more they are relatively easy to grow - the problem is getting them to 4 years old!
Photo of conspecific taxa, varieties, forms and cultivars of strombocactus disciformis.