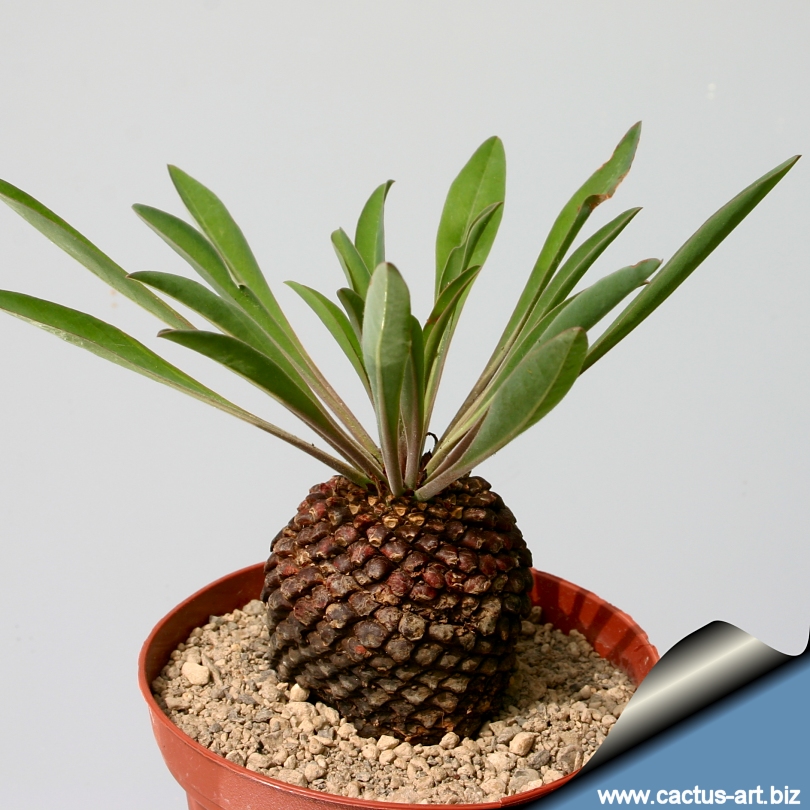 This lovely popular dwarf succulent looks a bit little an itty-bitty cycad, except for its simple lancelote leaves. Very different and interesting.

Description: Low-growing plant with a short caudiciform trunk that looks like a small pine cone topped with a crown of green leaves.
Stem: It has a brown, spherical barrel-shaped or columnar caudex that look alike a pinecone or a woody trunk. The stem which does not photosynthesize is a reserve for water, and usually does not grow much higher than around 20 cm and 7,5 cm thick.
The trunk has a geometrically-neat tubercled surface, and is usually unbranched.
Leaves: Deciduous and falling in the dry season, narrow or large, in tufts on the stems apex, up to 15 cm long, light green, making it look like a palm tree or a pineapple.
Flowers: The yellow solitary cyathia are quite small (about 5 mm in diameter) cupped by 2 bracts each. They develop at the crown of the plant. The peduncles fall away after drying.
USE: The latex of the Euphorbia bupleurifolia is highly poisonous, but has been used as an application to help cancerous sores, cracked skin on the feet and various other skin disorders. However, the latex can be very dangerous, depending on the dose given.

Cultivation: This is a small, slow-growing, but easy to cultivate succulent euphorbia, and is suitable as a container plant (but it can grow in the ground in areas with a mild climate). It needs to be kept warm, not less than 10 C in the winter (but when dormant and dry they are relatively cold tolerant). Sun Exposure: Light shade. It grows well in a very draining mineral potting substrate. It does not like its compost drying out for very long periods when the weather is hot. It needs constant moisture during the Summer, but it doesn't like winter water, as it rots easily.
Propagation: Usually by seeds.

Advertising
Family: Euphorbiaceae
Scientific name: Euphorbia Bupleurifolia Jacq.
[Pl. hort. schoenbr. 1:55-56. 1797] .
Origin: South Africa, widespread in the Eastern Cape Province and KwaZulu-Natal.
Habitat: Tropical subarid grassland.
Conservation status: Listed in CITES appendix 2.
Common Names : Called the pine-cone plant by some, because of the stem's resemblance to a pine cone.


The caudex has a geometrically-neat tubercled surface, and is usually unbranched.