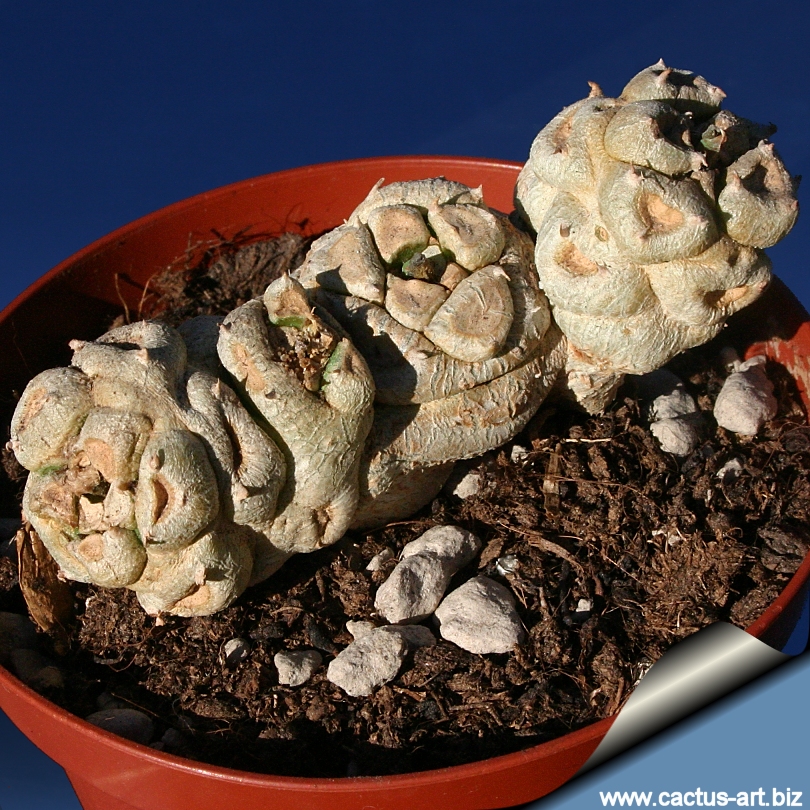 Euphorbia poissonii, a juvenile specimen during the winter rest.
This is a choice slow growing species still very rare in cultivation.

Description: An erect much-branched shrub 1,2 –> 2 m high, with candelabriform branching with one to several columns and topped with large green leaves during the growing season, occasionally sub-spiny,
Stems: Branches cylindrical, succulent, often indistinctly tessellate, 3-3,5 cm thick silvery-grey, stout.
Spines: Not spiny or sometimes with rudimentary, single spines, or with spines present only on young plants. So it would appear E. poissonii can be spineless or have one spine.
Leaves: Leafless or with 5-6 deciduous pale green leaves at the apex.
Flowers: Short peduncled yellow/green or greenish with red stamens.

Cultivation: Very slow growing and cold sensitive species can to grow in both pots and in the ground in areas with mild climate, but they can even be grown indoors. Sun Exposure: Light shade. They grow well in a very draining mineral potting substrate. During the summer, they enjoy average feeding and watering. When dormant, plants are relatively cold tolerant.
Propagation: Usually by seeds, it can also It be propagated by cuttings; if you remove an offset, remember to let it dry for a week or so, letting the wound heal (cutting planted to soon easily rot before they can grow roots). It is better to wash the cut to remove the latex.




Advertising
Family: Euphorbiaceae
Scientific name: Euphorbia poissoni Pax
Place of publication: Bull. Mus. Hist. Nat. Par. 1902, 62.
(frequently misspelled "poissonii" )
Origin: Tropical West Africa from Guinea to N Nigeria.
Habitat: Grows on rocks, stony soils; in open Monotes woodland with grass; on rocky hills (± 400-700 m alt) in dry savanna. The plant is sometimes cultivated, and often found in fields and villages in Dahomey
Conservation status: Listed in CITES appendix 2.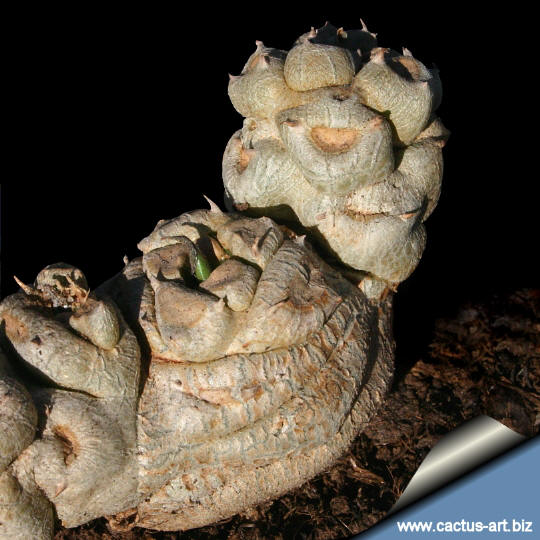 Warning: When a plant get damaged it exudes a thick white milky sap known as latex. This latex (resin) is poisonous contains some of the most potent irritants known. The latex is particularly dangerous for the eyes, skin and mucous membranes. So pay extreme attention not to get any in your eyes or mouth. Cultivated plants must be handled carefully.

Traditional uses:
A piece of the stem is commonly in Mali mixed with other ingredients in preparing arrow-poison from the seeds of Strophanthus (Apocynaceae). The latex is a powerful caustic, and its action seems to be solely as such for it is irritant to mucous membrances and in direct contact with tissue, but has no action on the heart, respiration or nervous system.

The Jukun of N Nigeria have used the plant-sap as a potent poison when added to food, drinking-water, kola nuts, etc.

In Sokoto some tribes use the plant as a fish-poison