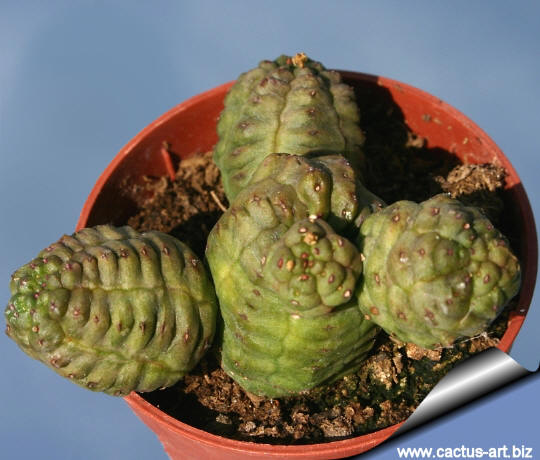 It is a dwarf slow and low growing succulent that looks like a cactus.
Cultivation: Like a sunny position. It does best in a mineral soil, good drainage is essential. Water sparingly during the summer months and keep dry in winter. It is a slow growing long lived plant and once established, it will be content in its position and with its soil for years. It can tolerate moderate shade, and a plant that has been growing in shade should be slowly hardened off before placing it in full sun as the plant will be severely scorched if moved too suddenly from shade into sun. Contrarily to Euphorbia globosa, Euphorbia pseudoglobosa have a large tap root and requires a relatively deep pot. Sometimes needs pruning not to look like a mess.
Propagation: The plant can be reproduced by seeds sown during spring or summer, cuttings and division of larger clumps. If you remove an offset, remember to let it dry for a week or so, letting the wound heal (cuttings planted too soon easily rot before they can grow roots). It is better to wash the cut to remove the latex.
Warning: As with all other Euphorbias, when a plant gets damaged it exudes a thick white milky sap known as latex. This latex is poisonous and may irritate skin, so pay extreme attention not to get any in your eyes or mouth.
Cultivated plants must be handled carefully.