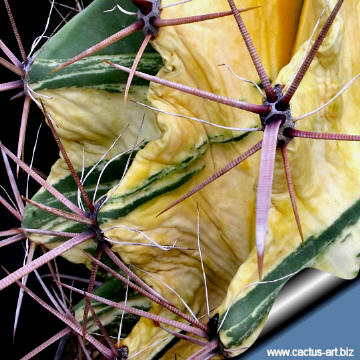 The older decolourized areas became characteristically wrinkled, this is a typical feature of this kind of variegated plants (especially if grown in full sun).
Sun exposition: In the summer it is best to avoid direct sun during the hottest hours of the day (but benefits of morning sun, that help to produce strong and colourful spines), in case of cultivation in full sun it is best to plant with the variegated spot facing northeast, so it gets the least amount of direct sunlight as possible.
Variegated Ferocactus can be found (although not common) in cultivation and some of these variegated plants have a place in most collections. All variegates are mutants. Something has gone wrong with the cellular structure of the growth tip (apical meristem) of the plant. As a result of this mutation, chlorophyll is missing from some or all layers of the plant epidermis. The odd variegate appears in many seedling batches in a small percentage and are generally separated from normal plants. Variegated plants grow slower and are generally smaller than non-variegates of the same species. Coloured areas are also generally weaker, and more susceptible to fungus, sunburn and other defects. A large well grown variegate Ferocactus is truly an achievement. These are harder to grow well than they appear.