Variegations are attractive and ornamental, and often highly prized.


Variegated Ferocactus can be found (although not common

ly

) in cultivation

,

and some of these variegated plants have a place in

any

collection. All variegates are mutants. Something has gone wrong with the cellular structure of the growth tip (apical meristem) of the plant. As a result of this mutation, chlorophyll is missing from some or all layers of the plant epidermis. The odd variegate appears in many seedling batches in a small percentage

,

and

is

generally separated from normal plants. Variegated plants grow

more slowly,

and are generally smaller than non-variegates of the same species. Coloured areas are also generally weaker, and more susceptible to fungus, sunburn and other defects. A large well grown variegate Ferocactus is truly an achievement. These are harder to grow well than they appear.



Sun exposition: In the summer it is best to avoid direct sun during the hottest hours of the day (but it benefits from morning sun, that helps to produce strong and colourful spines). In case of cultivation in full sun it is best to plant with the variegated spot facing northeast, so it gets the least amount of direct sunlight as possible.


F. emoryi x F. wislizenii
The older variegated part of the stem sometime become crimped

.

T

his is not a defect

,

but a common characteristic of this type of plant.


Ferocactus glaucescens
A lovely variegated seedling

Ferocactus diguetii (hybrid)
A white, red and green beauty.


Advertising




Family:
Cactaceae (Cactus Family)
Origin: Garden origin (Nursery produced cultivars) Usually hybrid.
Conservation status: Listed in CITES appendix 2.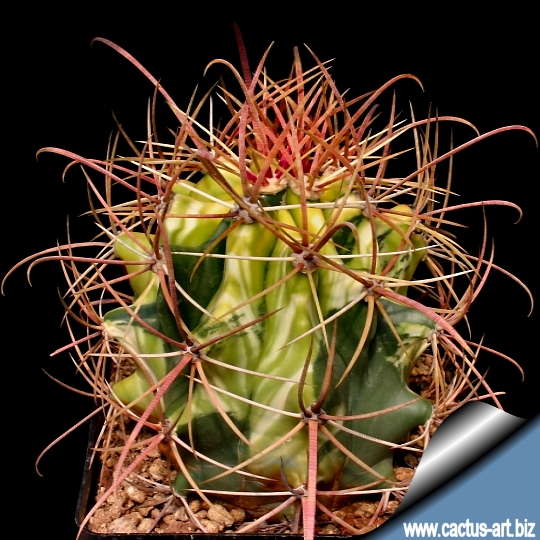 An hybrid specimen (F. emoryi x F. wislizenii)
A selected specimen highlighted by dramatic colours, white, lime yellow and dark green with vivid red spines.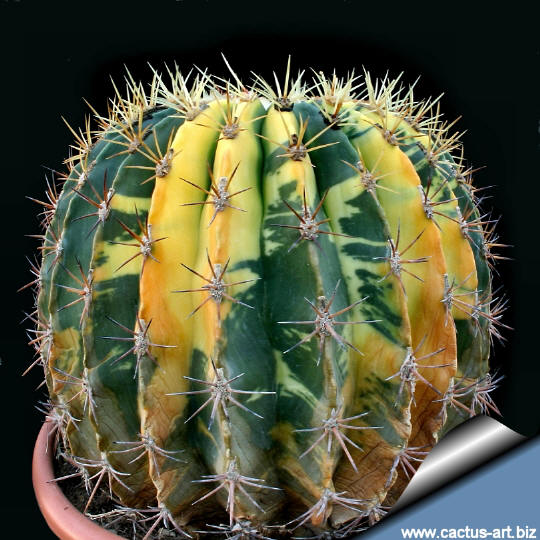 A big F. hystrix variegata