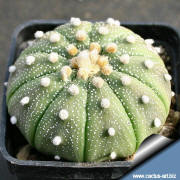 Astrophytum asterias
A spineless cactus species
For example spineless cacti, as the name implies, are cacti that usually have no large, visible spines.

Some species of cacti are typically spineless (e.g. Astrophytum asterias) or while other have natural spineless variety or form (e.g. Echinocereus triglochidiatus var. inermis).
But nowadays a number of spineless cultivar has been selected among normally spiny species and are available (e.g. Ferocactus glaucescens forma nuda).