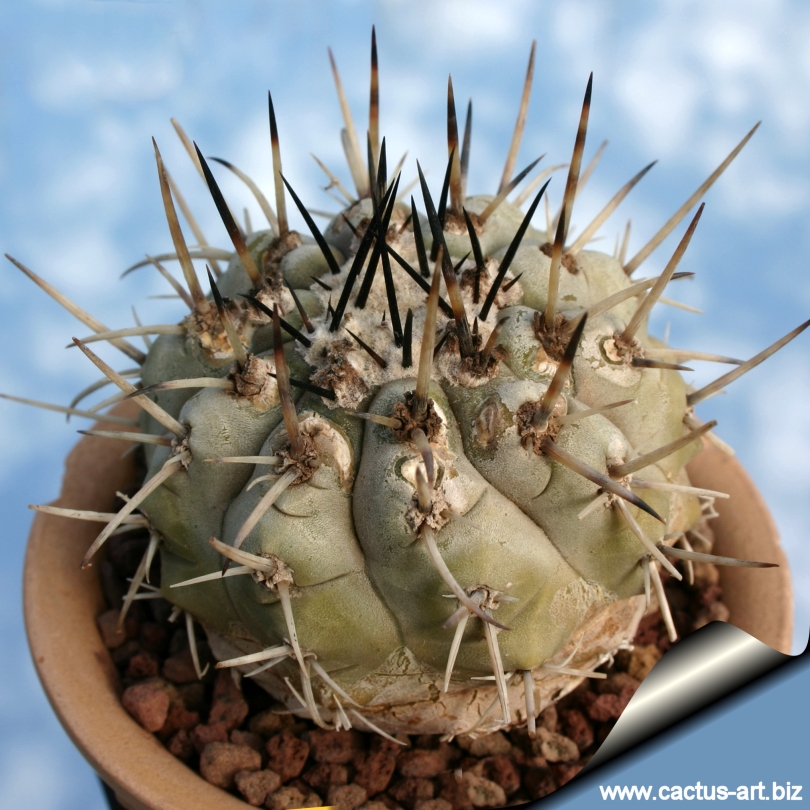 The name C. cinerea longispina alba identify a rare long white (at least when young) spined form.



Advertising
Family:
Cactaceae (Cactus Family)
Scientific name: Copiapoa cinerea longispina alba (?)

Origin: Unknown.

Conservation status: Listed in CITES appendix 2.
Copiapoa cinerea is a very variable species as demonstrated by the number of varieties and their synonyms. The several classifications and reclassifications provide evidence of the confusion that rules regarding the names used in this highly variable species. It seems that many botanists and hobbyists who have studied Copiapoa in habitat have formed their own concepts of which names should be applied to which plants. It is relatively easy to attribute some key features that dominate in certain populations, but it is equally possible to look more closely at plants in these populations, and find individuals that 'break the rules' and would easily fit another population's dominant characteristics.

Cultivation: This extremely slow growing cactus is kept for the beauty of its form, it must be protected from excessive heat and sun in summer, and seems to do best in cultivation with a bit of shade. Requires light but regular waterings in summer, but let the soil mix dry between waterings. Prone to rot if overwatered. Needs good drainage. Keep warm and dry in winter (10°C) to avoid rot. Not highly tolerant of a great deal of frost. (Frost tolerance 0°C).

Propagation: Seeds (or offsets if available), Grafting is often used to speed growth rate, and to create a back-up to plants in collection.


Photo of conspecific taxa, varieties, forms and cultivars of Copiapoa cinerea complex. (This taxon has lots of synonyms (like most copiapoa, with several controversial varieties and subspecies):