E. pentalophus forma mostruosa

.

.

.

Photo of conspecific taxa, varieties, forms and cultivars of plants belonging to the Echinocereus pentalophus complex (This Taxon has lots of synonyms (like most Echinocereus) with several controversial varieties and subspecies):


Advertising




Family:
Cactaceae (Cactus Family)
Scientific name: Echinocereus pentalophus (DC.) Lemaire.
in: Cactées, 56 (1868)
Forma mostruosa
Origin: Garden origin (Nursery produced cultivar)
Conservation status: Listed in CITES appendix 2.

Common Names: Lady Finger Cactus, Dog Tail, Alicoche.

Description: It forms large low clusters of green and pink stems, some only a 5 mm across. The spines are few and usually limited to the basal portion of the stem. Sometimes it will have a normal "patch" and remain mostly monstrous. This cultivar shows many growing variations, with different monstrous shapes.
Flowers: Up to 7 cm long, brilliant lilac-pink with a distinct white throat can almost hide the plant
Blooming season: Blossoms in mid April-may and eventually a second time in late summer.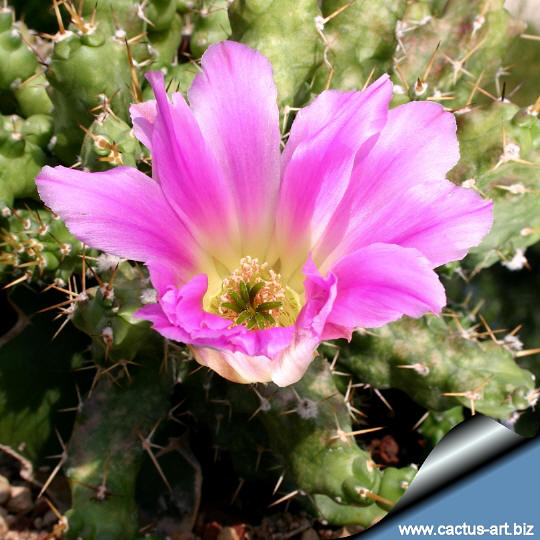 The white-throated flowers grows up to 7 cm in diameter,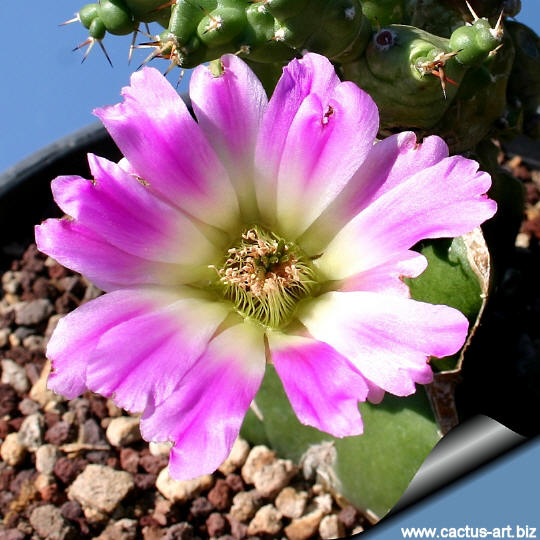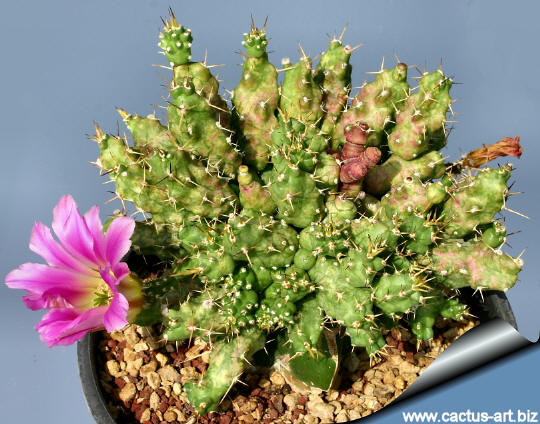 Cultivation: The E. pentalopus forma mostruosa is usually found grafted on stronger stocks, but it grows quite well on its own roots too. It needs good drainage, keep well ventilated, as it is prone to root rot. Protect from frosts and freezes. Hates the full sun in summer. Water regularly from March to October. It should be kept in a cool place during winter rest (it can briefly tolerate temp. as low as -7°C). Without this cool winter period these plants normally won't get many buds. Stems may possibly become purple and limp in winter, but revitalize in early spring. Feeding may not be necessary at all if the compost is fresh then, feed in summer only if the plant hasn't been repotted recently. Do not feed the plants from September onwards as this can cause lush growth which can be fatal during the darker cold months.
Propagation: By vegetative propagation grafting or stem cuttings from adult plants.