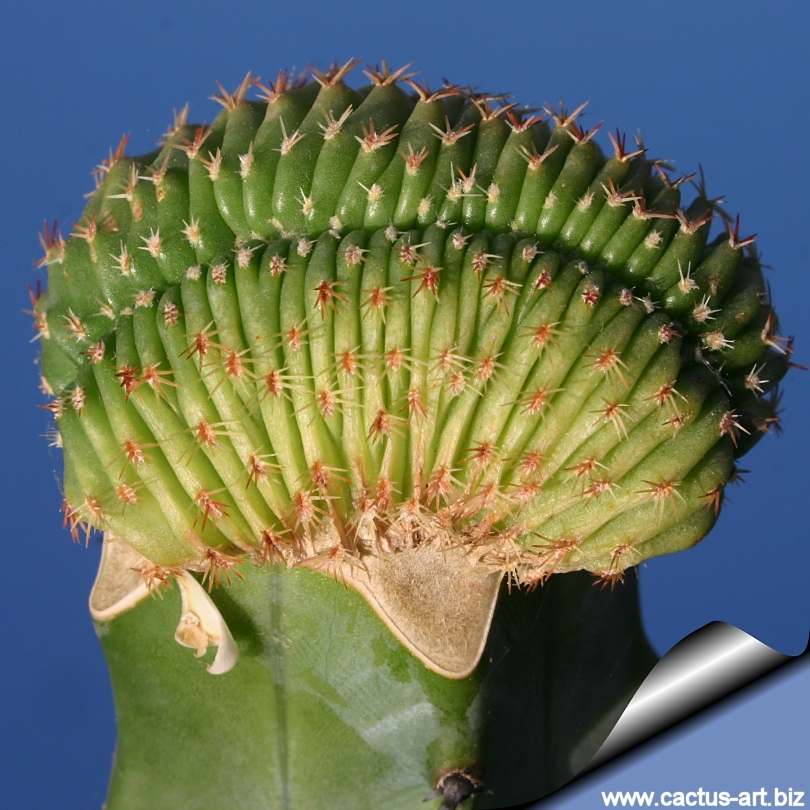 E. pulchellus is small growing cacti with flat bodies and short pale spines.

Description: E. pulchellus is a popular solitary or slowly clumping cactus, the standard form of it with flat globular, bluish green stems up to 6 cm, 5-7cm in diameter is very common in cultivation, while the crested form here described is very rare and sometime visible only in specialized collections.
Ribs: Rounded;
Areoles: 5 to7 mm inch apart
Spines: To 7 pale yellowish spines.
Root: It has a strong taproot.
Flowers: Abundant pink or purple/red (rarely white) flowers, up to 6 cm in diameter.

Photo of conspecific taxa, varieties of Echinocereus pulchellus.
E. pulchellus ssp. pulchellus has stems that are 2,5-5 cm thick with 9 to 12 ribs and 3 to 7 inconspicuous spines per areole. The flowers are pink or white.
E. pulchellus ssp. acanthosetus has stems that are 2 to 4cm thick with 9 ribs usually and 5 to 8 flailing hairlike spines. The flowers are magenta to white.
E. pulchellus ssp. sharpii has darker colored stems in comparison to the other subspecies that are 2 to 6cm thick with 11 to 17 ribs and 7 to 14 spines per areole. The flowers are magenta to white.
E. pulchellus ssp. weinbergii has stems that are 5 to 15 cm thick with 14 or 15 ribs and 8 to 11 spines per areole. The pink diurnal flower petals are narrowly acute in shape.
E. pulchellus ssp. amoenus has 15 cm stems, 10 to 14 ribs & on the young areoles it has 6 to 8 short spines with the lower spine being the longest. The older areoles are devoid of spines. The flowers are magenta.
Form & Cultivars:
Cultivation: It has a strong tap root and should have a deep pot to accommodate it. Needs porous well drained soil, water carefully, too much water will make it rot. Keep dry at minimum temperature of 5° C in winter although will tolerate brief periods to -10 degrees. Sun Exposure: Full sun to light shade.

Propagation: Grafting (it may also be propagated from cuttings)

Advertising
Family:
Cactaceae (Cactus Family)
Scientific name: Echinocereus pulchellus var. amoenus (Dietrich) Förster ex Schumann 1897
Origin: Mexico (northern Oaxaca, Puebla, Hidalgo, San Luis Potosi, and Queretaro)
Ecology: It is a geophyte cactus with a swollen underground storage taproot, in the wild tends to disappear completely in the ground in time of drought.
Conservation status: Listed in CITES appendix 2.
Echinocereus amoenus (Dietrich) Weber ex Haage 1892
= Echinopsis amoena Dietrich 1844:187-188.
TL: Mexico, Hidalgo, near San Mateo 7500 ft., Ehrenberg (?)
= Cereus amoenus (Dietrich) Hemsley 1880:540
Echinopsis pulchella var. flore kermesina Haage ex Förster 1846 pro syn.
Echinopsis pulchella var. amoena (Dietrich) Förster 1846
= Echinocereus pulchellus var. amoenus (Dietrich)Förster ex Schumann 1897
= Echinocereus pulchellus ssp. amoenus (Dietrich)Blum 1997 Seed
list. nom. nud.
Echinopsis pulchella var. rosea Labouret 1853 pro syn.
Echinocereus amoenus var. aguirre Zehnter & Künzler Catalog nom. nud.
= Echinocereus aguirrei