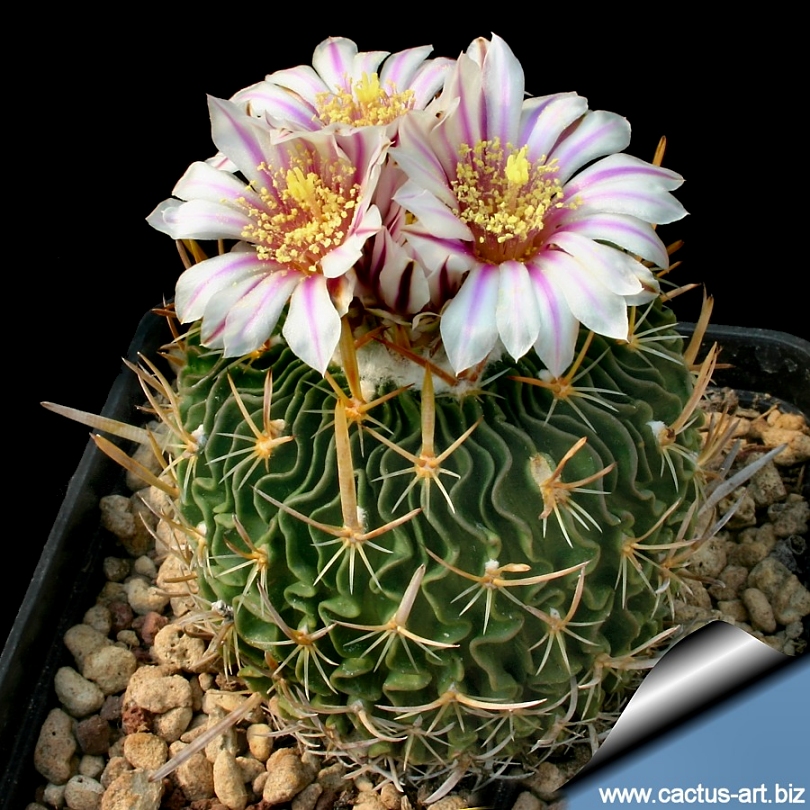 E. erectocerntrus (multicostatus)
The blooms are white with a purplish-violet midvien.

Description: E. erectocentrus found in cultivation are quite variable, and the dissimilarity among seedlings spination and ribs shape may be considerable.
Stems: Solitary, globose, vivid green with a flat tops 8-15cm wide and up to 7-12 cm tall, typically with multiple, very tight, thin, wavy ribs
Areoles & spines: There are only 2 or 3 areoles in each rib, witch are covered with white felt in young plants, each has 6 to 9 radial spines, the upper ones are longer whit a central stout and flat erected spine, while the lower ones are shorter and point downwards. The spines are different lengths.
Flowers: The blooms are white with a violet to purple midvien in early spring.
Photo of conspecific taxa, varieties, forms and cultivars of plants belonging to the Echinofossulocatus multicostatus complex (This Taxon has lots of synonyms (like most Echinofossulocactus) whit several controversial varieties and subspecies):