Epithelantha polycephala
An old plant may have more than 100 heads, and be 10 cm in diameter.


Description: Clustering miniature cactus; an old plant may have more than 100 heads, and be 10 cm of diameter.
Stem: Elongated and very thin, 1-2cm in diameter.
Spines: Very short, appressed, grey/whitish or pastel new spines on shoot apexes are reddish.
Notes: This is a very distinctive cactus, though quite variable regarding stem's sizes and branching propensity.


.

.

.

Cultivation: Although regarded as a choice and difficult plant in cultivation it is relatively easy. It needs a soil mix that's particularly well-draining (rot prone). Water sparingly.
Frost Tolerance: Depending on the clone, will take -12° C (Temperature Zone: USDA 8-11)
Sun Exposure: Light shade to full sun

Propagation: Seeds, offsets.

Photo of conspecific taxa, varieties, forms an cultivars of Epithelantha micromeris:


Advertising




Family:
Cactaceae (Cactus Family)


Scientific Name:
Epithelantha micromeris ssp. polycephala
(Backeberg) C. Glass
1997
in: Guía Identific. Cact. Amenazadas México, 1: Ep/mi ssp. polycephala (1998 publ.): 1997
Basionym: E. polycephala Backeberg 1954
in: Cactus, Paris, No. 39, 32; et No. 40, 62 (1954); cf. Backeb. Cactac. Handb. Kakteenk. 5. 2918 (1961), 1954
Distribution: Mexico (Coahuila)
Conservation status: Listed in CITES appendix 2.
E. polycephala Backeberg 1954
in: Cactus, Paris, No. 39, 32; et No. 40, 62 (1954); cf. Backeb. Cactac. Handb. Kakteenk. 5. 2918 (1961), 1954
E. micromeris v. polycephala
E. micromeris ssp. micromeris var.polycephala
E. greggii v polycephala
Etymology: The subspecies name "polycephala" derives from the Greek adjective "polys (πολυς)" meaning "much, many, frequent; large; heavy" and the word "cephale (κεφαλη)" meaning "head; front; end, point; source, top; chief person"
(The subspecific name implies: "many-headed")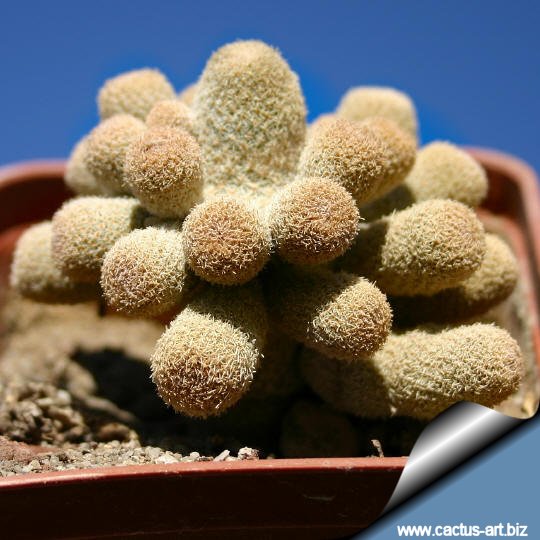 Clusters of tiny heads From Mr. Landini's collection, Italy