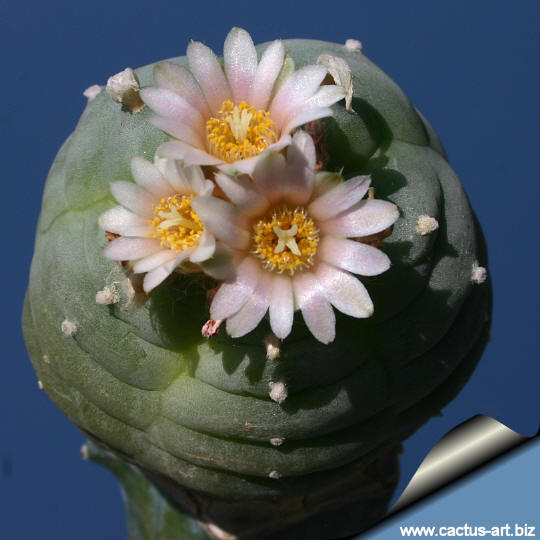 Cultivation: Because of the tap root they are very rot prone, so use highly gritty compost with much drainage. Requires half shade to part sun. Waterings should be rather infrequent to keep the plant compact and not to become excessively elongated and unnatural in appearance, watering it properly is often difficult because this plant tends to crack open or rot if over-watered. The fact that the plant retracts into the soil and assume a grey-green colouring between watering, is perfectly natural and doesn't cause any damage.
Overwatering: Keep completely dry and cool in winter (An unheated greenhouse would be perfect) or when night temperatures remain below 10° C, it can survive low temperatures (appr. -7°C) for a short period. Assure a good ventilation.
Propagation: From seeds or (usually) by grafting on a stronger stock.
Photo of conspecific taxa, varieties, forms and cultivars of plants belonging to the Lophophora williamsii complex (This Taxon has several controversial varieties and subspecies and comprises a multitude of different forms, but where each form is linked to others by populations of plants with intermediate characteristics):