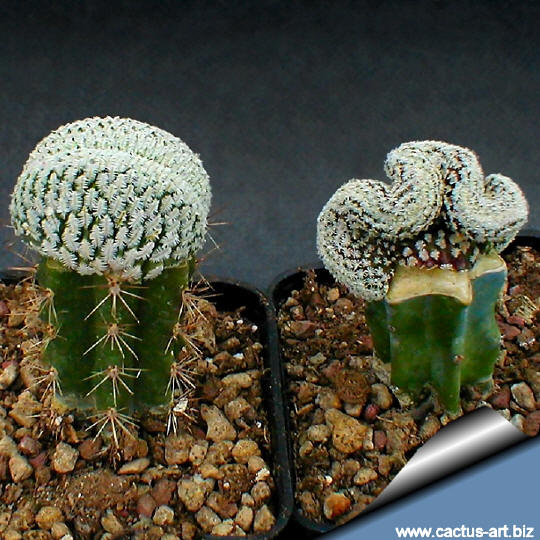 This plant forms very nice crests, Wide and narrow form are both very
The cause of cresting: The cause of cresting is not fully explained, biologists disagree as to why some plant grow in this unusual form. Some speculate that it is a genetic mutation. Others say it is the result of a lightning strike or freeze damage, but whatever the stimulus, the growth point of the stem has switched from a geometric point, to a line, which folds and undulates as the crest expands. Though these crested cacti are somewhat rare (1 in 50,000 or less), cresting occurs naturally and can be encountered in many other cactus species.
Culture: Mammillaria pectinifera cristata grow slowly and are cold intolerant, make sure that your crest are not exposed to freezing temperatures. It need a well drained soil mix. Water regularly in summer but allow to dry fully before watering again. During the winter months they should be rather kept dry. Repotting should be done every other year or when the plant has outgrown its pot.
Sun Exposure: They like full sun, but some summer shade in the hottest hours of the day is beneficial.
Propagation: Grafting since cutting root hardly.
Photo of conspecific taxa, varieties, forms and cultivars of Mammillaria pectinifera: