Monvillea spegazzinii (The moonlight plant)
Because of the beauty of flowers this cactus has met with great favour. It is one of the most prolific bloomers of all cacti, flowering from April to September. The flowers open in the early evening.
Monvillea are also attractive because of their white purplish mottled or marbled stems.


Description: Monvillea spegazzinii is a slender shrubby cactus that has a similar form and habitat to the night-blooming cereus (Peniocereus greggii). It puts forth many basal shoots, soon becoming tillered.
Stems: Branched, bluish mottled in purple and green, erect or semi prostrate , up to 1.8 m long or more, 2 cm inches in diameter;
Roots: Tuberose and succulent, Even adventitious roots of Monvillea spegazzinii become succulent.
Ribs: Three to five (usually four) raised angular that have deep incisions similar to indentations along the edge. They are about 3 cm long at the base and bear small areoles at the apex of the protuberances.
Central spines: One 1.5 cm long;
Radial spines: The Young plants usually have three sharp, blackish spines 5 mm long, two pointing upward and one downward. On the older parts there are five radial and one central spine, 1.5 cm. long.


Flowers: 10 to 13 cm in length with a slender tube, reddish outer perianth segments and white inner ones. They arise from near the top on the sides of the stems; buds point upward but curve suddenly downward when the flowers open. They bloom at night.
Fruit: Smooth, red, juicy with persistent perianth remnant that withers slowly and dries attached to the end of the fruit. Flowers.

Remarks: These plants frequently produce monstrose crests, and crests occasionally produce normal shoots.
The crested variety have spectacular blue marbled stems with pronounced sculpture effects


Cultivation: Produces best results in loose and very drained soil, rich in leafmould, and if sufficient water is supplied in warm weather a rather considerable growth can be made. It needs semi-shade. The plants will stand but little cold and require a minimum winter temperature of about 10° C. (but can resist for short period to 0° C). Growth is rapid, and supports are needed for the stems. The half‑erect habit of the moderately tall plants makes them desirable for middle foreground position in landscap­ing, while the comparatively small room needed for potted plants makes it an acceptable group for greenhouse culture.

Propagation: (usually) by cuttings. Cuttings will flower sooner than plants grown from seed, and are quite plentiful.



Photo of conspecific taxa, varieties, forms and cultivars of Monvillea spegazzinii.


Advertising




Family:
Cactaceae (Cactus Family)
Conservation status: Listed in CITES appendix 2.
Scientific name: Monvillea spegazzinii (Weber) Britton and Rose

Tribe Cacteae Subtribe Cereinae
Origin: Paraguay and northeastern Argentina. It was discovered near Resistencia, capital of the province of Chaco, Argentina.

Habitat and Ecology: Monvillea spegazzinii has little capacity to swell or shrink during rainy/dry cycles. It occurs in only moderately dry areas, growing among leafy shrubs and small trees.
Common Name:

M

oonlight cactus,

N

ightblooming cereus
Etymology: The genus name Monvillea commemorates M. Monville, a well ­known student and collector of cacti in the eighteenth and mid-nineteenth century, and today there are 10 known species.
Synonyms:
Cereus spegazzinii F.A.C.Weber
Piptanthocereus spegazzinii,
Monvillea lindenzweigiana,
Piptanthocereus lindenzweigianus,
Cereus lindenzweigianus,
Monvillea vallegrandensis,
Monvillea ebenacantha,
Monvillea anisitsii,
Cereus anisitsii,
Cereus marmoratus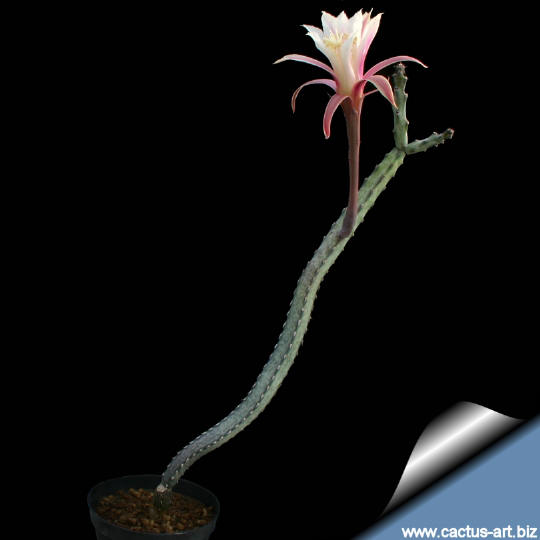 This genus differs from Cereus in its thinner, half-erect stems, and smaller but more prolific flowers.