Rebutia heliosa forma cristata


.

In cultivation there are several, but quite rare, crested clones of Rebutia heliosa. Most of them get very nice making spectacular specimens. They eventually forms clump up to 20 cm across (or more). With the lace of thin appressed spines they are very distinctive and elegant plants.


Photo by Massimo Giannelli (Italy) email: treg@wooow.it

.

.

The cause of cresting: The cause of cresting is not fully explained. Biologists disagree as to why some plants grow in this unusual form. Some speculate that it is a genetic mutation. Others say it is the result of a lightning strike or freeze damage. But whatever the stimulus, the growth point of the stem has switched from a geometric point to a line, which folds and undulates as the crest expands. Though these crested cacti are somewhat rare (1 in 50,000 or less), cresting occurs naturally and can be encountered in many other cactus species.


Advertising




Family:
Cactaceae (Cactus Family)
Scientific Name: Rebutia heliosa Rausch 1970
In W. Rausch, Kakt. & Sukkulent. 21. 30., 1970
Forma cristata
Origin: Garden origin (Nursery produced cultivar)
Conservation status: Listed in CITES appendix 2.

Description: The typical Rebutia heliosa is a well known clustering cactus and one of the smaller rebutias species.
Stems: It is essentially a miniature plant that readily forms a mound of tiny heads. The rare crested form can also get very nice making a spectacular specimen. It eventually forms a clump 10 to 20 cm across.
Stem: The crested stems are 2,5-4 cm thick.
Areoles : Small, brown and elongated.
Spines: Short ,silvery, dense and pectinate, covering almost completely the small stems.
Roots: Fleshy tap root
Flower: Large, orange-red, funnel-shaped, long -necked, 4 cm in diameter, 5 cm long.
Cultivation: Grow very slowly. In culture R. heliosa is not among the easiest species to grow, for this reason it is often grafted. Plants on their own roots are sensitive to overwatering (rot prone) and need a very good drainage, Keep drier and cool in winter. Need full sun; Very cold resistant hardy to -10° C or less for short periods of time.
Propagation: Grafting, since it is difficult for cuttings to root.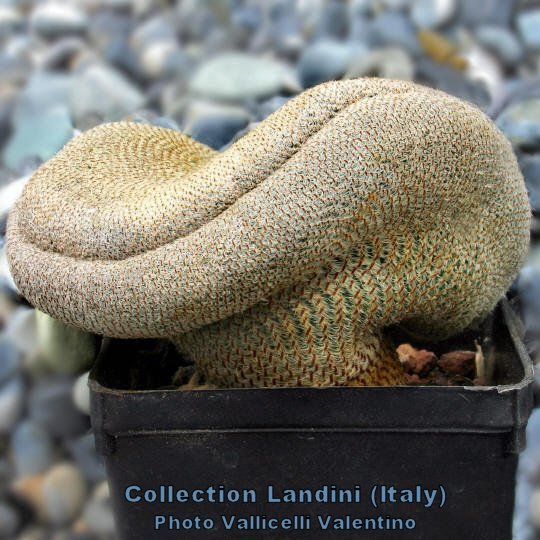 (from Landini collection - Italy)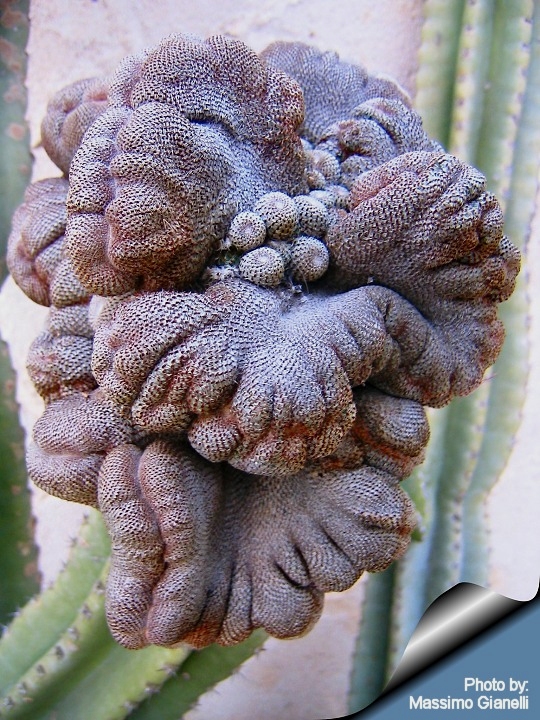 Photo by Massimo Giannelli (Italy) email: treg@wooow.it

Photo of conspecific taxa, varieties, forms and cultivars of Rebutia heliosa: