Turbinicarpus valdezianus forma cristata


Description: The standard Turbinicarpus valdezianus is one the smallest and slowest growing Turbinicarpus with tiny feathery spines that obscure the body of the plant, it is usually solitary but sometime form clusters of few branches. Typically half of it is underground with a big tap root.
Forma cristata: The crested form is still rare in cultivation. It is covered by dense feathery white spines, spreading flat around the areoles and the apex completely concealed by the plumose spination.
Spines: Turbinicarpus valdezianus is a pectinate species species, but the the pectinate spines are not in the two neat rows as in T. pseudopectinatus, the ca. 25-30 spines, are dense, feathery and white, about 0.5 mm long, spreading flat around the areoles.
Flowers: One to 5 diurnal, at plant apex, this species is found scattered in small populations in several locations and the colour of the flowers is variable ranging from pinkish white to bright pink with darker magenta or reddish-brown midveins.
Blooming season: Early bloomer (February - March).






Advertising




Family: Cactaceae (Cactus Family)

Scientific Name:
Turbinicarpus valdezianus (Möller) Glass & Foster forma cristata Origin:

Garden origin (Nursery produced cultivar)

Conservation status: Listed in CITES appendix I
Pelecyphora valdeziana

forma cristata

Normanbokea valdeziana

forma cristata

Gymnocactus valdezianus

forma cristata

Pediocactus valdezianus

forma cristata

Neolloydia valdeziana

forma cristata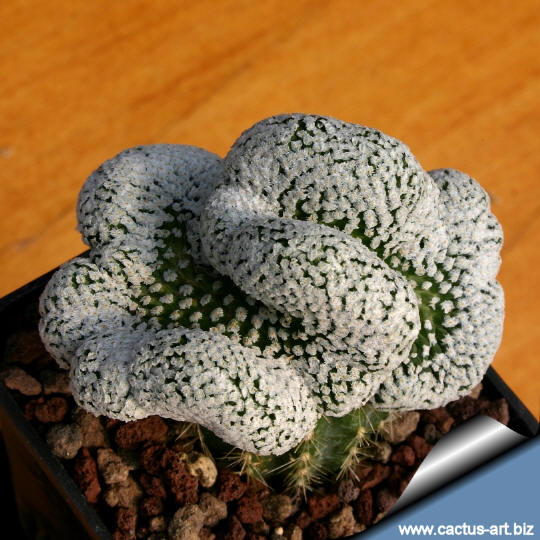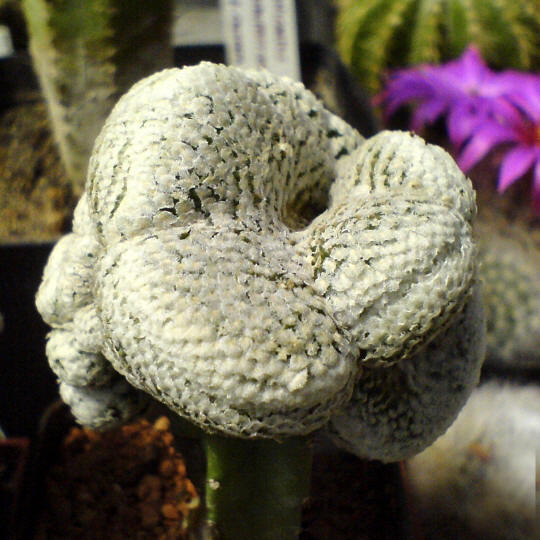 Photo and © copyright by Jošt Vladimķr CZECH REPUBLIC
Cultivation: l though regarded as a choice and difficult plant, in cultivation it is relatively easy. Keep dry in winter or when night temperatures remain below 10° C, it is hardy to -4°C for a short period, but for safe cultivation a minimum temperature of 5° C would be recommended. These plants like full sun where it obtains a compact natural looking, but some summer shade in during the hottest hours of the day is beneficial. Assure a good ventilation.
Propagation: Grafting, cuttings.
The cause of cresting: The cause of cresting is not fully explained. Biologists disagree as to why some plants grow in this unusual form. Some speculate that it is a genetic mutation. Others say it is the result of a lightning strike or freeze damage. But whatever the stimulus, the growth point of the stem has switched from a geometric point to a line, which folds and undulates as the crest expands. Though these crested cacti are somewhat rare (1 in 50,000 or less), cresting occurs naturally and can be encountered in many other cactus species.

Photo of conspecific taxa, varieties, forms and cultivars of Turbinicarpus valdezianus: