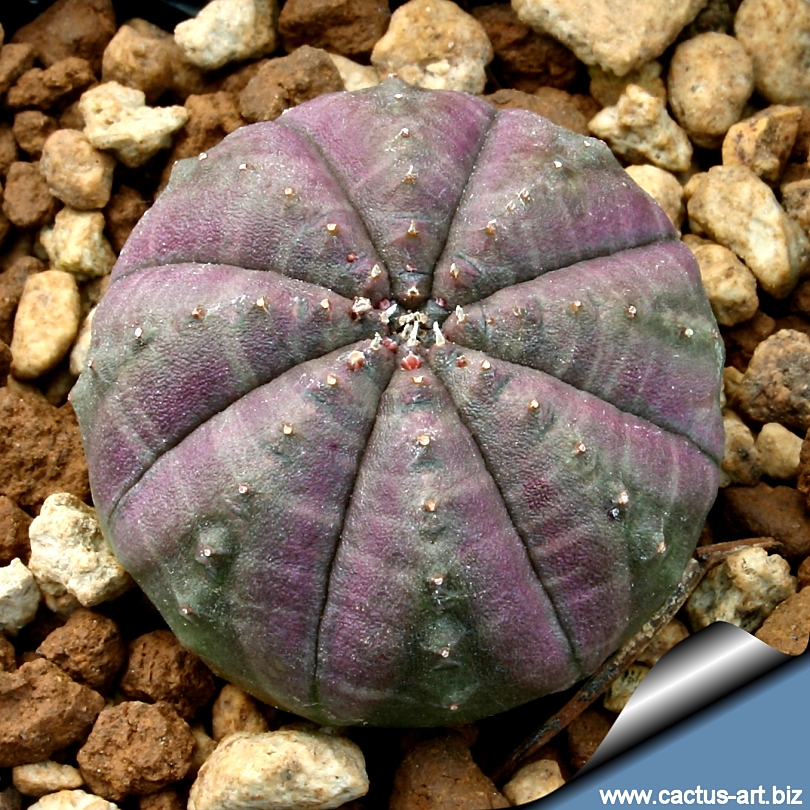 Euphorbia symmetrica is a beautifully flattened sphere with horizontal purplish banding and very similar to Euphorbia Obesa. Unusual in cultivation it is still rare to find.
Description: This plant can look nearly identical to Euphorbia obesa, but rounder, flatter and not growing as tall (dimension up to 6 cm , 8 cm diameter; 8 to 10-sided) It has usually more, somewhat different, markings. The flowers are also more numerous with several from each point of origin, it has as well a distinctive long taproot.
Cultivation: Like a sunny position. It does best in a mineral soil, good drainage is essential. Water sparingly during the summer months and keep dry in winter. It is a slow growing long lived plant and once established, it will be content in its position and with its soil for years. It can tolerate moderate shade, and a plant that has been growing in shade should be slowly hardened off before placing it in full sun as the plant will be severely scorched if moved too suddenly from shade into sun.
It is propagated from seed sown during spring or summer. Flowering can be achieved within 5-8 years.
Photo of conspecific taxa, varieties, forms and cultivars of Euphorbia obesa.