Ferocactus macrodiscus
In its habitat it passes the dry periods almost buried in the ground.


Description: Medium sized barrel cactus with a blue-green epidermis.
Stem: Flat, solitary 30cm of diameter (but up to nearly 60 in some cases)
Ribs: 16 to 21.
Areoles: 5 to 10 mm long with yellow felt.
Spines: Yellow or red and curved.
Central spines: 1 to 4, up to 3,5 cm long.
Radial spines: 6 to 8, 2 cm long.
Flowers: Bright purple/pink and white striped of about 4 cm of diameter
Blooming season: From early spring into summer .

The 'macrodiscus' subspecies has a blue-green epidermis and areoles 0,5 to 1 cm long. The spines are yellow or red and curved. It is the most prevalent.
The 'septentrionalis' has a greenish-yellow epidermis and the areoles are 1,5 to 2,5 cm long. The spines are straight and strong.


Cultivation: Slow growing to start, but it does well under cultivation. Suited for any rich, well drained soil (Ph 6). Grow it in full sun throughout the year. In winter keep completely dry at 10°C, but it can tolerate sporadic light frost. Anyhow it's problematic if the temperature goes below 5° with high humidity during the winter rest. Even adult specimens are affected by wounded spots in their epidermis. It takes less watering than the standard for other ferocacti.. It's necessary to be avoid wetting the bodies of these plants while they are in sunlight. A wet cactus in the sun light can cause sun burning, which can lead to scars, or even fungal infections and death. It is apt to undergo attacks of red spiders if it is placed near fruit trees.

Propagation: Seeds are the only way of reproducing.



USE: F. macrodiscus (The "Candy cactus") is used to make sweets. The middle is cored out and soaked in sugar, then chopped up and eaten.



Advertising




Family: Cactaceae (Cactus Family)

Scientific name: Ferocactus macrodiscus

Origin: Mexico (San Luis Potosi, Guanajuato, Oaxaca

, Puebla, Queretaro de Arteaga

)

Habitat: Grows in association with Tillandsia usneoides, bushes and desert trees in a very dry area. During drought periods the plants sink well into the ground, from the effects of heat and dryness. For this reason it is very difficult to locate the cactus until the rains arrive and it swells itself and prepares to bloom. If it is not flowering, it would be difficult to see it at all.



Conservation status: Listed in CITES appendix 2.
Synonyms:
Ferocactus macrodiscus ssp. macrodiscus (Torr. & Grant) Britton & Rose

Echinocactus macrodiscus

Bisnaga macrodisca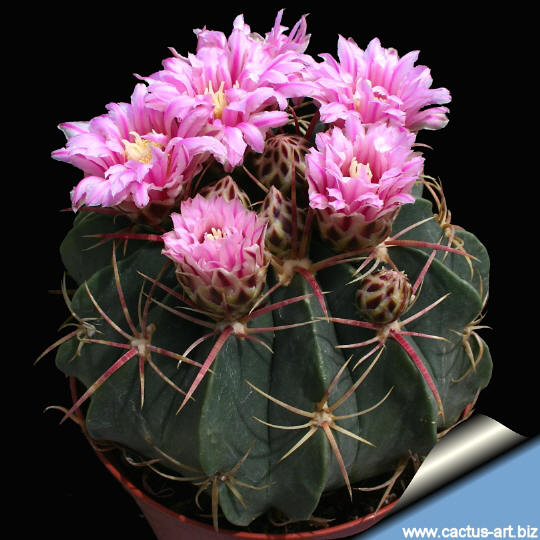 Unusual in Collections it starts blooming when the plant has only a diameter of 8-12 cm.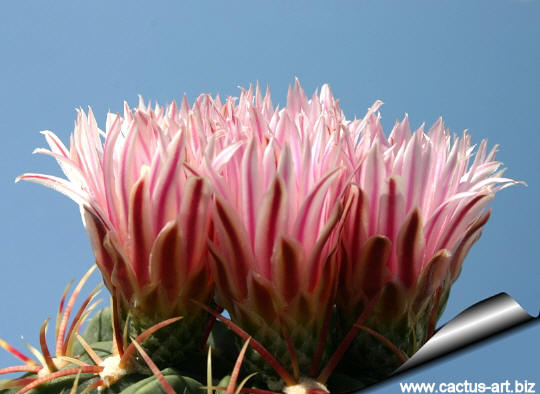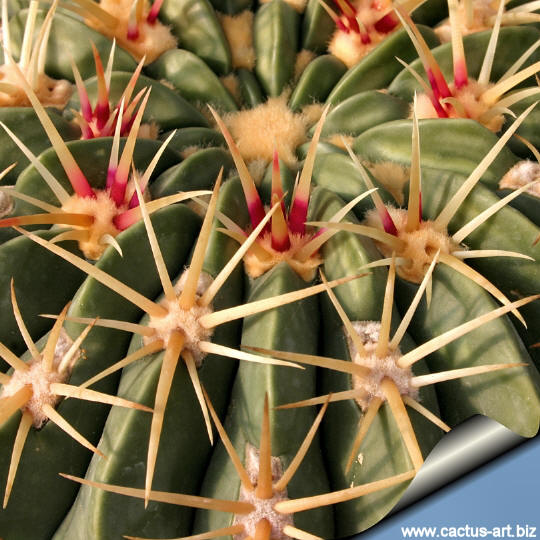 Photo of conspecific taxa, varieties, forms and cultivars of Ferocactus macrodiscus.