Parodia subterranea LH668 North of Culpina, Potosi, Bolivia
In habitat this species reputedly grows almost completely hidden below the soil.


Description: Usually simple or rarely basally branched, white-topped cactus.
This species reputedly grows almost completely hidden below the soil (in habitat) and is extremely hard to find unless it is in bloom.
Stem: Flattish to globose, dull green to olive green with white wool apically, thick and growing mostly underground, but the plant's stem in cultivation is usually globular or ovoidal and aerial. Dimension: 6-12 cm in diameter.
Ribs: 11-13 spiralling, forming distinct conical tubercles.
Areoles: Young areoles are filled with abundant white wool. Later they are naked.
Central spines: One (or sometime as many as 4), short, thick black, clawlike, more or less erect, straight or hooked and twisted (depending on population), 7-14 mm long.
Radial spines: Up to 10, radiating, ± flattened against the plant's body, mostly whitish or yellowish (but also blackish), 5-8 mm long.
Flowers: Funnel-shaped, usually red (but ranging from yellowish-orange to dark purple), about 3 cm wide.
Pericarpel and floral tube covered with white or brown hairs and black bristles. Dried flowers remain for a long time on the plant's body after blooming.
Blooming season: Late spring.
Fruit: Red or green, with white hairs.
Seeds: Purse shaped, black.


.


Advertising




Family: Cactaceae (Cactus Family)
Scientific name: Parodia subterranea F. Ritter
In: Succulenta, 43 : 43, 1964
Origin: Native to Bolivia, Chuqisaca (Culpina, Cinti)
Synonyms:
Parodia maassii var. subterranea (Ritt.) Krainz
in Städtische Sukkulentensammlung, Zürich (katalog), p. 102, 1967
Parodia occulta F. Ritter 1980
Parodia miranda F. H. Brandt 1981
Parodia culpinensis F. H. Brandt 1973
Parodia zaletaewana F. H. Brandt 1973
Parodia nigresca F. H. Brandt 1981
Parodia salitrensis. F. H. Brandt 1981

a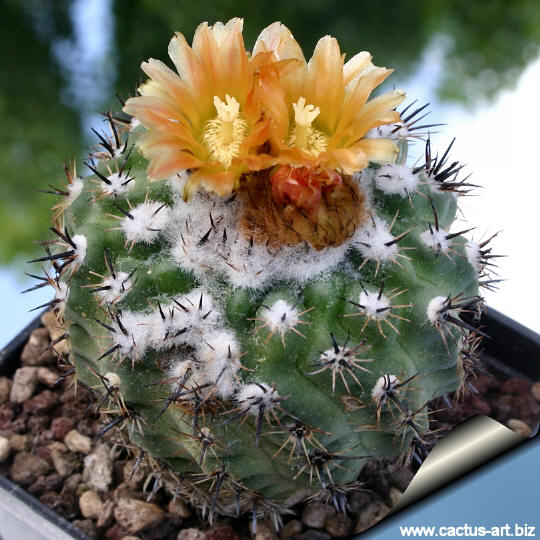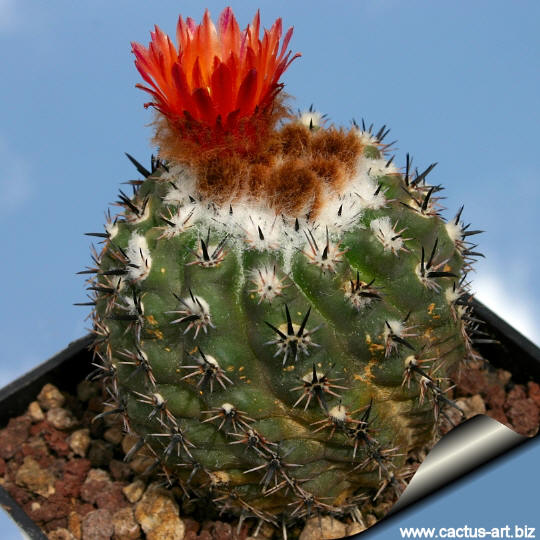 Cultivation: Water these plants regularly, and fertilize them with a low nitrogen fertilizer every 6 to 8 weeks, from mid-spring to late summer. This plant should remain rather dry at other times (especially in winter), except for a quick, periodic misting on warmer days in late winter. If it is kept absolutely dry for a long period, it tends to lose its roots in winter. It can tolerate light frost (- 4C°) but rots easily if wet and cold.
If the local climate is warm enough to grow this plant outside, be sure that soil is well drained and sun is full, but with protection from strong midday rays.

Propagation: By Seeds that are very fine.
Photo of conspecific taxa, varieties, forms and cultivars of plants belonging to the Parodia maassii complex (This Taxon has lots of synonyms (like most Parodia), with several controversial varieties and subspecies):