Turbinicarpus pseudomacrochele SB1049 Bernal, QRO
Blooms are white with a darker pink midstrip.



Fat taproot

.

.

.

.


Advertising




Family:
Cactaceae (Cactus Family)
Scientific Name: Turbinicarpus pseudomacrochele (Backeberg) Buxbaum et Backeberg 1937
Conservation status: Listed in CITES appendix I
Origin: Hidalgo, Queretaro, Mexico
Synonyms:
Pediocactus pseudomacrochele
Strombocactus pseudomacrochele
Toumeya pseudomacrochele
Kadenicarpus pseudomacrochele
Neolloydia pseudomacrochele
Description: Solitary (usually) or slowly clumping, stems globular pale green to darker green with woolly top up to 2,5-4 cm tall, 2-4 cm in diameter;
Areoles: White at the tip of the tubercles.
Tubercles: Low and rounded

,

conical

,

3-5mm long.
Spines: 6 to 8 thin, flexible

,

bristly

,

and twisted

,

15-30mm long. The colour is white to yellow-brownish .
Root: Taproot.
Flowers: Diurnal , very pale pink to bright, yellowish green

,

to purple with darker mid-stripe, up to 2 cm long , up to 3.5 cm. in diameter.
Fruits: Green nearly round 4-6mm long.

Cultivation: This species is fairly robust and easy to grow. Watering should be rather infrequent to keep plant compact. The fact that the plant retracts into the soil and assume

s

a grey-green colouring between watering, is perfectly natural and doesn't cause any damage. Hardy to -4°C for a short period. Exposures: Full sun where it obtains a flat natural look

,

or part

ial

sun.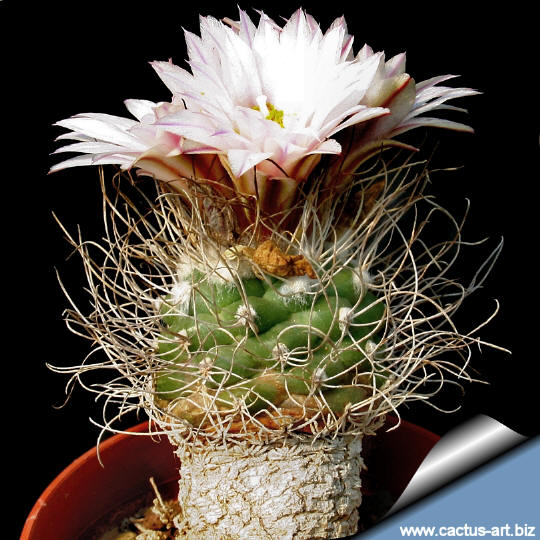 Turbinicarpus pseudomacrochele Vista Hermosa
The plant from Vista Hermosa have pale flowers, almost white with a clear pink midstrip.

Cultivation: It's a fairly easy and robust species to cultivate, but very slow growing. It needs a very well-drained soil, and requires strong sun to part sun to keep the plant compact and low and to develop a good spinal growth. Waterings should be rather infrequent to keep the plant compact, and avoid its becoming excessively elongated and unnatural in appearance. Furthermore it has a tap root, and watering it properly is often difficult, because it tends to crack open or rot if over-watered. Careful watering away from the body of the plant will allow the areoles to keep their wool. Keep dry in winter, or when night temperatures remain below 10° C. It is hardy to -4°C for a short period. Assure a good ventilation.
Reproduction: From seed, since the plant rarely produces plantlets, or grafted.
Photo of conspecific taxa, varieties, forms and cultivars of Turbinicarpus pseudomacrochele: