Copiapoa humilis ssp. longispina


Description: Solitary, rarely offsetting of its own. It seems likely that many of the forms described as species can be regarded under humilis, as subspecies or as forms and now some authors considers C. humilis ssp. longispina (Ritter) Doweld as C. humilis ssp. humilis (Philippi) Hutchison.
Stem: Hemispherical, lighter green (usually) to dark green (occasionally almost black) about 10 cm in diameter, covered with greyish wax. It is usually less caespitose than the type. The stem is also harder than that of the Copiapoa humilis. The crown is somewhat depressed, with white woolly felt.
Root: Massive, thickened rootstock going well down into the ground, with a long narrow neck.
Ribs: About 8-14 forming distinct tubercles.
Areoles: Well separated, with white wool.
Central spines: Stronger than the type, almost white to blackish up to 50 mm long.
Radial spines: 7 to 90 finer and shorter, up to 20 mm long.
Flowers: Yellow, campanulate, scented, about 20 (or more) mm long, growing from the centre of the white wool at the apex.
Seeds: 1,5 mm wide, black.
Fruit: Round, naked, red, about 8 mm long.

The identification of the true 'longispina' may concern a degree of uncertainty as to what this plant is, and many plants found in cultivation are Copiapoa humilis ssp. humilis.


.




Advertising




Family: Cactaceae (Cactus Family)
Scientific name: Copiapoa humilis ssp. longispina (F.Ritter) Doweld (2002)
Origin: Sierra Hornillos, South of Copiapò. It is the southern population of C. humilis found at about 350 km from the growing area of the type species. There are not intermediate populations and no hybrids are found between the two sorts.

Habitat: It grows in an area where constantly sunny weather prevails, together with a great aridity. However this southern region benefits of some winter rain.
Listed in CITES appendix 2.
Copiapoa humilis is a highly variable taxon with several more or less similar forms that could be described as local varieties.
Taylor suggests that this is a very complex species or species aggregate, perhaps representing geographical varieties or, in some cases, critical species, listed here in sequence from north to south: C. tocopillana, C. tenuissima, C. variispinata, C. paposoensis, C. taltalensis, C. longispina and possibly C. chaniaralensis and C. esmeraldana.
In considering C. humilis species, we need to bear in mind the remarkable differences between young plants, with short, thin spination and the darker coloration of the body compared to the more robust adults with longer and sturdy, flexible spines.
Etymology: The subspecies name "longispina" means (with long spine)
Copiapoa humilis (Phil.) Hutchison
In: Studies of South American Cactaceae, Cactus & Succulent Journal (USA), 25(2): 34-37; (3):63-72 1953.
Copiapoa humilis v. paposoensis (F.Ritter) A.E.Hoffm. (1989)
Copiapoa humilis v. longispina (F.Ritter) A.E.Hoffm. (1989)
Copiapoa paposoensis F.Ritter
Original Description: KaKteen in Südamerica. 3: 1980
Copiapoa longispina F.Ritter (1963)
Echinocactus humilis Philippi
In: Florula Atacamensis 23. 1860. 1837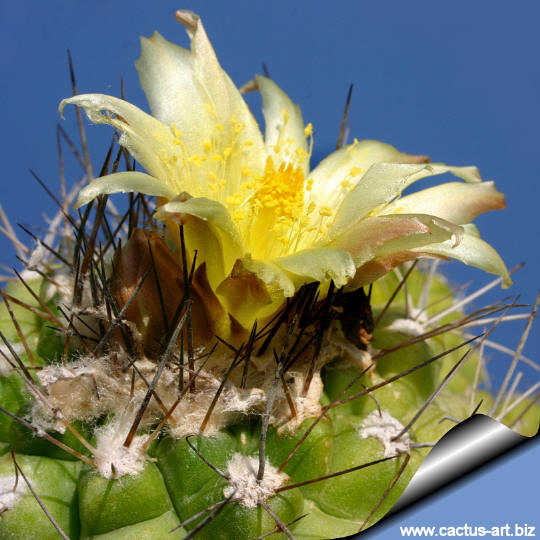 Cultivation: Need full sun otherwise the bodies tended to elongate in cultivation, but should be protected from excessive heat and sun in summer, Require light watering, good drainage, and deep pot to accommodate tap root. . Keep warm and dry in winter to avoid rot. Frost tolerance 0°C
Propagation: Seeds (offsets rarely), Grafting is often used to speed growth rate and to create a back-up to plants in collection.
Photo of conspecific taxa, varieties, forms of plants belonging to the Copiapoa humilis/taltalensis complex (This Taxon has lots of synonyms (like most copiapoas) with several controversial varieties and subspecies):