Family: Cactaceae (Cactus Family)
Copiapoa rubriflora F. Ritter 1963

Accepted Scientific name: Copiapoa rupestis F. Ritter
In Taxon 12(1):29 - 1963

These plants have been given an assortment of names involving desertorum, and rupestris.

Origin: Coastal Chile, Prov. Antofagasta, Dept. Taltal, near Cifuncho
Ritter reports that the plant is rare in habitat and is associated with C. rubriflora, which extends inland to the north near Estación Breas .
Habitat: Rocky and very arid coastline. The long tuberous root of this Copiapoa is buried deeply in these soils which are very poor in organic matter. In the area where this plants grows there is very little rain but frequent coastal fog, which provides a significant part of their water needs.
Listed in CITES appendix 2.
Synonyms (of Copiapoa taltalensis):
Copiapoa desertorum F. Ritter 1980
Copiapoa taltalensis (Werderm.) Looser 1929
Echinocactus taltalensis Werderm
Copiapoa rupestris ssp. desertorum
Copiapoa rubriflora F. Ritter 1963
Copiapoa olivana F. Ritter 1980
Copiapoa montana F. Ritter 1960
Copiapoa hypogaea var. montana (F. Ritter) G. J. Charles 1960
Copiapoa hornilloensis F. Ritter 1980
Copiapoa rarissima F. Ritter 1980
Description: Clustering and very spiny plant that forms loose clumps up to 40 cm tall, 90 cm wide
Stem: Firm, globose to short cylindrical green to 40 cm high, 5-11 cm across with apex densely covered by spines.
Roots: Enlarged turnip-like, more or less elonged not restricted at the neck.
Ribs: 13-15 stright, 10-12 mm high, somewhat flattened with raised tubercles;
Areoles: Round, pale brown 7-10 mm across.
Spines: Subulate, mostly slightly recurved, thick, dark brown becoming grey.
Radial spines: 6-8(-12), 1-2 cm long.
Central spines: 1-3, 2-4 cm long.
Flowers: Scented, saffron/yellow or reddish, 2.5 cm long with short acuminate petals, ca. 13 mm long, 5-7 mm wide. Stamens approx 15 mm long, pale saffron. Style 17-19 mm long, stigma with about 8 lobes;
Fruit: Green to red-green, 15 mm long, 7 mm wide with 6-12 reddish scales.
Blooming season: Spring and summer.
Seed: 1 mm long, 0.7 mm wide with white, oval hilum. The back of the seed is keeled.

Note: Taylor (1981) suggests C. rubriflora could be a variety of C. rupestis. To be considered here would be C. hornilloensis and C. desertorum.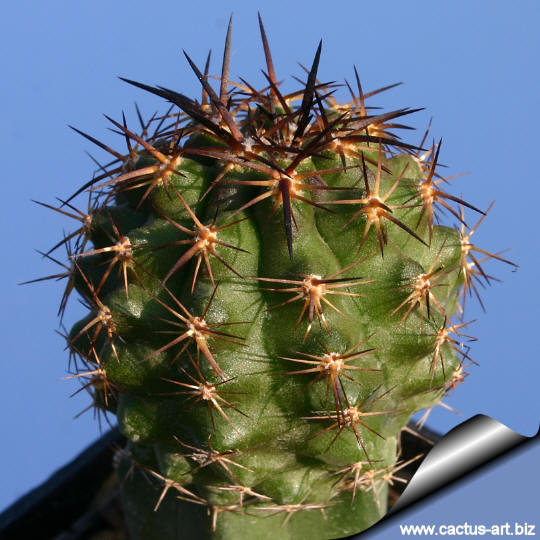 Photo of conspecific taxa, varieties, forms of plants belonging to the Copiapoa humilis/taltalensis complex (This Taxon has lots of synonyms (like most copiapoas) with several controversial varieties and subspecies):
Propagation: Seeds (or offsets if available), Grafting is often used to speed growth rate and to create a back-up to plants in collection.
Cultivation: This extremely slow growing cactus is kept for the beauty of its form and for its red flowers. It must be protected from excessive heat and sun in summer. It requires light but regular waterings in summer, but let the soil mix dry between waterings, Prone to rot if over-watered. Needs good drainage. Keep warm and dry in winter (10°C) to avoid rot. Not highly tolerant of a great deal of frost. (Frost tolerance 0°C)