Sclerocactus glaucus (Field number: SB 1749 De Beque, Garfield County, Colorado, USA)
A plant grafted on Opuntia compressa out of doors in the rock garden.
This species does better in the garden than in the green house; no problem for frost, rain and very humid winter season. Resistant till -20° C.


Description: S. glaucus is a ball cactus with a squat, ovoid or globular shape. Single or clumping, in groups of up to 9 green or powdery blue coloured stems, like the scientific name, They have 8-15 ribs and the rib is sometime tuberculous 4 to 30 cm tall, 4 to 9 cm in diameter.
Spines: (0 or) 1 to 3 generally characteristic unhooked central spines, the lower ones brown, the upper ones white 1-3 cm long,; 6 to 8 radials, 5 mm long. Some specimens lack central spines or have central spines which are hooked. Red nectar glands are found above each areole.
Flowers: Beautiful purplish-red flowers Purple or pink flowers, 4-5 cm in diameter, 3-4 cm long.

NOTE: The "Debeque form" has tall larger blue body with stiff spines. It grows in northern edge of distribution for this species.



Two years old Sclerocactus glaucus "De Beque form"

A mature specimen grafted on Opuntia compressa.

.


Buds

The new pubescent spines are astonishing

A nectar gland.

The basal areole have bright red nectaries


Advertising




Family:
Cactaceae (Cactus Family)
Scientific name: Sclerocactus glaucus
(J. A.Purpus ex K. Schum.)) L. Benson
Published in: Cact. &Succt. J. (US) 38:53, 1966
"Debeque form"
Conservation status: Listed in CITES appendix 1.
Common Names include:
Uinta basin hookless cactus
Grand Mesa Purpus Cactus
Echinocactus glaucus (J.A. Purpus ex K. Schum.) L. Benson
Pediocactus glaucus (J.A. Purpus ex K. Schum.) Arp
Sclerocactus whipplei var. glaucus (J.A. Purpus ex K. Schum.) Welsh
Echinocactus subglacus
Sclerocactus franklinii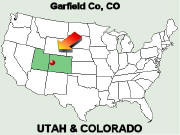 Origin: S. glaucus is very rare and highly endemic from three known population groups, is restricted to the west-central portion of Colorado (Gunnison River &Upper Colorado River ) and the Uintah Basin of north-eastern Utah. It is one of the most northern species among the genus.
Habitat: is found scattered on gravely or rocky soils on hills, riverside and mesas of varying exposures on Salt-Desert/Grassland sites, occasionally on clayey plains. It is more abundant on south-facing exposures, and on slopes to about 5-30 percent grade; Elevation ranges from 1,300 to 1,600 meters.

Etymology: The generic name "Sclerocactus" derives from the Greek word "sclero" meaning "hard ", "cruel" referring to the hard seed tegument or to the formidable spines, and the word "cactus" (an old genus name) ( The genus name implies: "hard cactus").
The specific name "glaucus " derives from the Greek word "glaucus" meaning "bright, gleaming; greyish, bluish-green" (for plants, a white bloom giving a bluish-greyish appearance)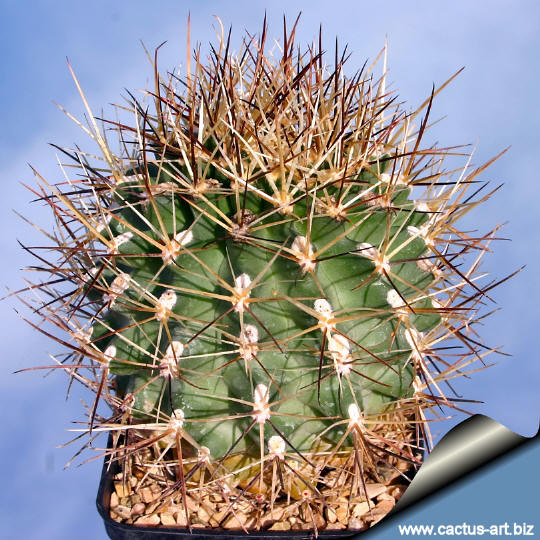 Cultivation: This plant is very rare in cultivation, it does not do well, it is very difficult to grow its own roots. Mature individuals easily rot and die especially after planting. The seeds germinate with extreme difficulty and a low rate of success, seedling did not do well either, and more die each year. S. glaucus is extremely xerophytic and adapted to very dry soils, but plants grafted an hardy Opuntia compressa stock are very easy to grow and no special skill is required, they can stay in a non heated green house or outdoors in raised beds, terraces, window sills etc.. This cactus continues to be, a particular prize among collectors
Propagation: Seeds are extremely difficult to germinate (only 2-3 percent of seeds germinate). Grafting is often used to speed growth rate and to create a back-up for plants in collection.

Photo of conspecific taxa, varieties, forms and cultivars of plants belonging to the sclerocactus glaucus complex (This Taxon has several synonyms (like many other cacti) with controversial varieties and subspecies, and comprises different forms, but where each form is linked to others by populations of plants with intermediate characteristics):