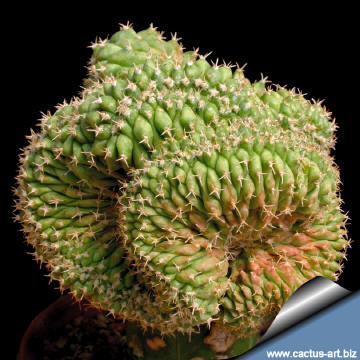 T. lophophoroides forma cristata "minima"
(A thin crest variant)

Description: This plant is recognizable without problems for the areoles with white wool (when young), soon becoming bare. Spines 2 to 5 (typically 4) about 4 to 8 mm long, in a cross like formation, strong needle-like or fine awl-like, flat spread and often somewhat curved to the body.
Cultivation: T. lophophoroides is a plant adapted to a specific type of soil and quite prone to rot especially after the first flowering. A 10 -30% of natural gypsum could be added to a very well drained soil. keep dry in winter or when night temperatures remain below 10° C, it is hardy to -4°C for a short period. Assure a good ventilation. Exposures: Full sun is useful to obtains a natural looking and for flowering, but some shadow is recommended during the hottest hours in summer.
Propagation: by vegetative propagation grafting or stem cuttings.