Turbinicarpus lophophoroides forma mostruosa
This plant is recognizable without problems for the tiny tangled body which is dark olive-green with brownish-purple tint. The spines are like small white stars.


Description: The standard T. lophophoroides is a well known solitary, globose cactus, but the monstrous mutant here described is a completely different looking plan that forms small compact mound up to 10 cm in diameter. It looks like a strange marine creature than a cactus, similar to a dark coral with hundreds of white individual polyps, each polyp only a few millimetres in diameter.
Stems: It is formed by an intricate multitude of small tangled protrusion of soft, rubbery-textured bumps, only a few mm across. The stem is purplish-green, and in full sun take a very dark colouring (almost black)
Areoles: Very small not woolly.
Spines: About 8-10 radially spreading, white, very short (1-2 mm long) that remembering a small star or a white spider.
Flower: Unknown.



Photo of conspecific taxa, varieties, forms and cultivars of Turbinicarpus lophophoroides:


Advertising




Family:
Cactaceae (Cactus Family)
Scientific name: Turbinicarpus lophophoroides (Werderm.) F. Buxb.& Backeberg 1937 forma mostruosa
Origin: Garden origin (Nursery produced cultivar)
Conservation status: Listed in CITES appendix I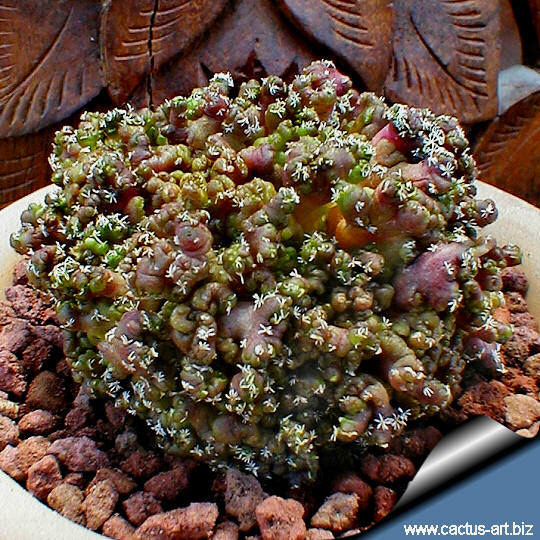 Cultivation: It's a fairly easy cultivar to cultivate plant adapted to a specific type of soil but, but very slow growing. A 10 -30% of natural gypsum could be added to a very well drained soil. Watering should be rather infrequent, but abundant, so that the soil becomes completely soaked. Furthermore it has a swollen juicy root system, and watering it properly is often difficult and rot if over-watered. Keep dry in winter, or when night temperatures remain below 10° C. It is hardy to -4°C for a short period. Assure a good ventilation. Exposures: Full sun where it obtains a natural-looking flat, or part sun. The fact that the plant retracts into the soil and assume a red-brown colouring between watering, is perfectly natural and doesn't cause any damage.
Reproduction: Grafting or cuttings.