This is a slow growing, finger size plant. Very nice but rot prone on its own roots.


Description: Tiny globose or finger-like stem, slowly growing atop a thick, underground taproot, with a constriction between the stem and the root. eventually becoming somewhat elongated in cultivation.
Stem: Slow growing, up to 3-5 cm across, 2-6 cm tall, brown-olive-grey tones
Tubercles : Smaller tubercles than the type;
Areoles: Grey woolly.
Spines: Short copper-brown to black coloured radials of small size -2 to 3 mm,
Roots: Forms a tuberous root system with (usually) a very large carrot-like root of at least 7 cm of length
Flower: Funnelform; buds hairy with brown wool.
Fruit: Large red clavate, wrapped in white wool.
Phenology: Flowers already when young, synchronised flowering of the whole plants took place over one or two days, and remain open for about three or four days. Blossoming time: late spring.


.


Advertising




Family: Cactaceae (Cactus Family)

Eriosyce napina ssp. lembckei

(F.Ritter) F.Kattermann 1994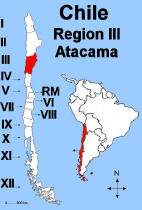 Distribution: Coastal Chile (Region III Atacama) Road from Vallenar to Huasco and nearest areas along the coast of the ocean .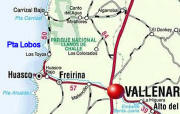 Conservation status: Listed in CITES Appendix II

Etymology: The genus name "Eriosyce" derives from the Greek words "Erion (εριον)" meaning "wool" and "Sykos" meaning "fig (a fruit)" .
(The genus name implies: "woolly fruits").
The species name "napina" derives from the Latin "napus" meaning "turnip" plus the adjective suffix for nouns "inus" meaning "belonging to or resembling" (The specific name implies: "resembling a turnip")
The subspecies epithet "lembckey" has been named named in honour of "Hans Lembcke" Germany expert and author of Chilean species of cacti.
Neochilenia lembkei Backeb. (Nom. inval.) 1959
Thelocephala lembckei (Backeb.) F.Ritter (Nom. inval.) 1980
Eriosyce napina subsp. lembckei Katt. 1994
Eriosyce napina var. lembckei Katt. 1994
Neoporteria reichei fa. lembckei
Neoporteria reichei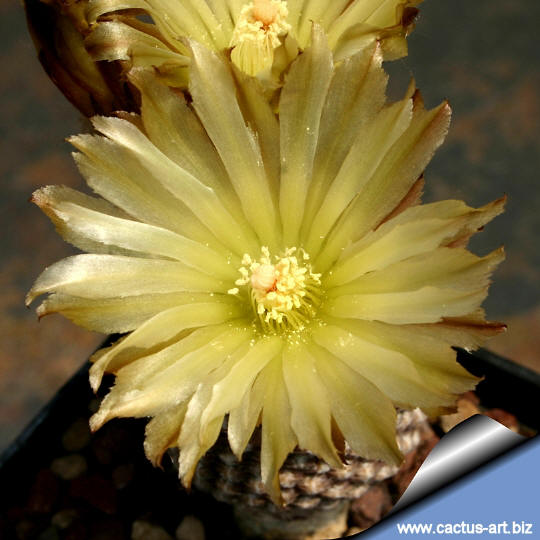 Cultivation: Have thick taproot and are susceptible to over-watering, sometimes are grafted to avoid root rot problems. Likes warmth (recommended minimum winter temperature 5° C) But plant kept perfectly dry can easily survive to winter night temperatures below 0° C (In our greenhouse no damage with -10° C for a few hours in winter 2002-2003). Sun Exposure: Suited for sunny-brightly exposure; can tolerate light shade.

Cultural Practices: Suited for airy exposures. Needs deep pot and good drainage to accommodate its tap root. Keep dry in winter.
Propagation: Seeds or graft. Seeds can be sown in the spring or summer. The seedlings should not be disturbed until they are well rooted after which they can be planted separately in small pots.
Photo of conspecific taxa, varieties, forms and cultivars of E. napina. (This Taxon has lots of synonyms, with several controversial varieties and subspecies, and comprises a multitude of different forms)