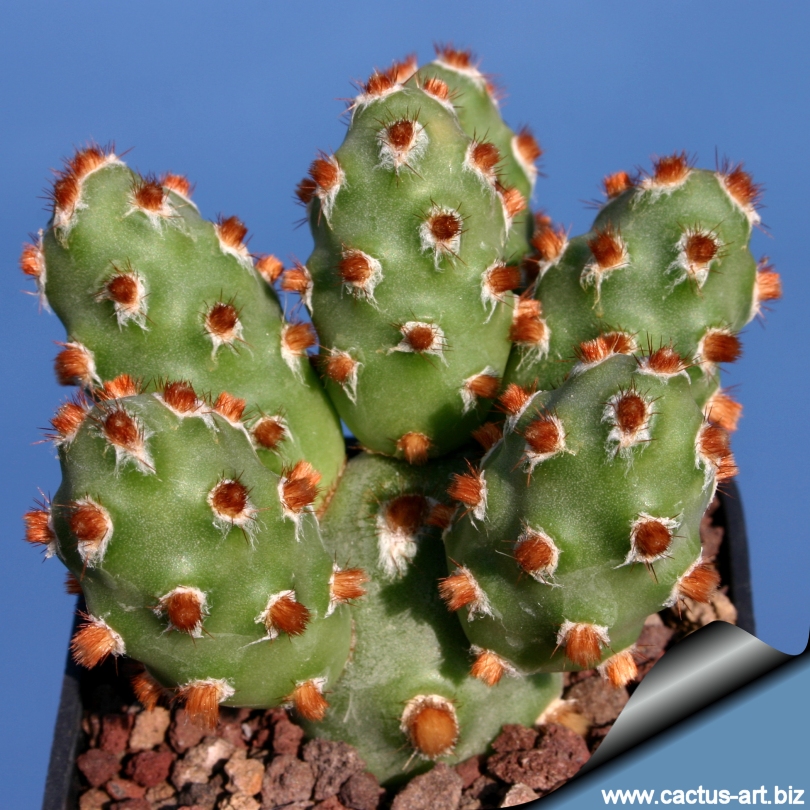 Areoles with fox-red glochids and white felt .
White blooms with a greener throat.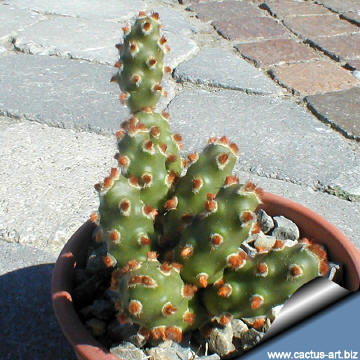 Morphology (Identifying Characteristics): Small clumping segmented succulent, In cultivation grows as a small erect segment chains. In habitat the plants stay smaller because the uppermost segments are detachable and drop easily.
Areoles : Very ornamental with bright yellow-brown glochids and white felt.
Spines: Spineless.
Flower: Dirty white or very pale pink a little hyaline with a green centre and green filaments. Pericarp is comparatively small and has areoles furnished with bristle-like spines as strong as the one on the young shoots.


Photo of conspecific taxa, varieties, forms and cultivars of Tephrocactus molinensis:Description: This is a small soft-skinned succulent mesemb much like a Pleiospilos. Tanquana hilmarii is the smallest species of the genus. In its native habitat it tends to remain unmbranched but often clusters in cultivation.
Body: Small, up to 35 mm (or more in cultivation) smooth soft to the touch which are not at all lumpy or rock like as in pleiospilos, brown-purplish to green-grey, dots all over, leaves are ovoidal- clavate (triangular with fat rounded tips) and never keeled.
Flower: Solitary, diurnal, yellow 25-35 mm wide producing a strong spicy scent.
Blooming season: Autumn, flowers opens in the afternoon and close at night.
Fruit: Capsule 10-locular with covering membranes and small closing bodies, and similar to those of Titanops hence the extraction of this genus from Pleiospilos.

Advertising
Family: Cactaceae (Cactus Family)

Scientific Name:

Tephrocactus molinensis

(Speg.) Backeb. 1953

Distribution: Argentina (Salta, Los Molinos)

Habitat: Grows a open area among wide spread Trichocereus pasacana.
Notes: At the end of the dry season the cladodes are very dehidrated and plants retract almost at soil level.
Type:
Exsiccata:
"Opuntia schumannii-Tephrocactus molinensis" (LPS 14335). Lectotype designated by Kiesling (1984a: 230, as type). Corp.
Basionym
:
Opuntia molinensis Spegazini.
Published in:
Anales Soc. Ci. Argent. 96: 63. 1923,
nom. nov. prop. Opuntia schumannii Speg. in Anales Mus. Nac. Buenos Aires 11 (ser. 3, 4): 511. 1905, nom illeg. (non F. A. C. Weber).

Protologue:
"Hab. Semel abunde prope Molinos,
Prov.
Salta". Photographs: LP: without data. Later, Spegazzini (1925: 102) published this photograph, although he did not mention if it corresponds to the type.
Obs.: Spegazzini (1923) created a new name: "Opuntia molinensis Speg. (nom. nov.) = O.

Schumanni

Speg. (non Web.), Cactacearum

platensium tentamen

, nº 106", since the name

Opuntia schumanni

was already created by

Weber in 1904.
Etymology: The genus name "Tephrocactus" derives from the Greek adjective "tephros (τεφρος)" meaning "ash coloured" plus the connective vowel "o" used in botanical Latin for Greek words , and the word "cactus" (an old genus name) (The genus name implies: "ash coloured cactus"). The species name "molinensis" comes from "Los Molinos", name of the original location from which the species is native.
Opuntia glomerata andicola
Opuntia molinensis
Maihueniopsis molinensis]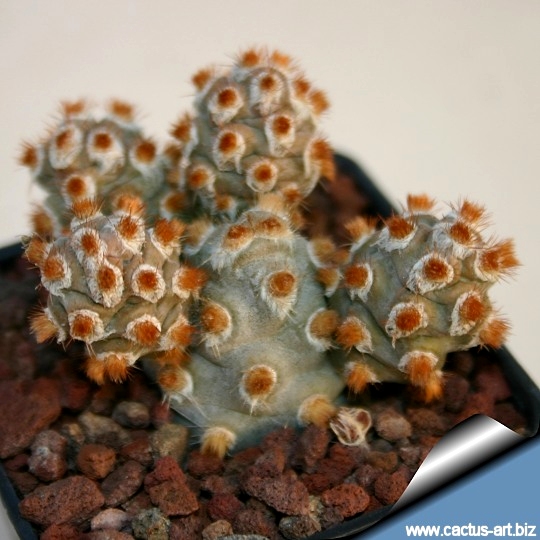 A plant during the winter resting period.