Turbinicarpus beguinii PAN 4 Cerro el Potosí 2000 m, NL, Mexico.



Flower are broadly funnel-shaped magenta with lighter edges of tepals.


Description: Body usually solitary, globose. Hardly offsetting in cultivation.
Stem: Spherical or somewhat conical, rounded above; apex rather deeply sunken, but fully hidden by the snow-white, dense wool; blue-green, 6-8 (10) cm high and 6-8 cm in diameter. Ribs fully arranged in tubercles, from 13 to 21, rather dense spirals, rhombic or sub-quadrangular, conical; the top somewhat compressed from the sides, with sharp upper and lower edges. The seedlings tend to become quite cylindrical.
Roots: Carrot-shaped
Flower: Flower broadly funnel-shaped. Tepals linear, blunt, green with violet edge; inner linear - lanceolate, pointed, magenta with lighter edges of petals. Length and diameter of the flower 2-2.5 cm. White Filaments; the Anthers are dark chrome yellow. The white style towers over them with 6 recurved lobes.
Phenology: Blossoming time: summer
Fruit: Fruits, urn-shaped, are 12 mm long.


Juvenile spines transform in a young seedling

Spines (in adult plant): Close-packed, radial, mostly 12, awl-shaped, very sharp, sticking out up to 17 mm, snow-white, translucent, young almost glass-like, black tipped. Central spines 1, much longer (up to 30 mm), somewhat stronger, white, but at the top and further down, dark brown to black. Later they become grey, and the radial spines radiates horizontally, almost comb-like.
Juvenile spine: Plumose, soft, flexible, not pungent. During the first year near the base thin feathery hairs begin to form. Often the spine is densely covered, with hairs up to its tip. Spines of two-year-old seedlings (see figure) differ only in being longer and more ragged. There are no central spines; all are radial.



T. beguinii (PAN 4 Cerro el Potosí 2000 m, NL, Mexico) long spines form


T. beguinii (SB1620 Cerro Potosi, NL, Mexico)
Glassy white spines, with black tips.


Photo of conspecific taxa, varieties, forms and cultivars of the Turbinicarpus mandragora complex (This taxon has lots of synonyms, with several controversial varieties and subspecies):





Advertising




Family:
Cactaceae (Cactus Family)
Conservation status: Listed in CITES Appendix I
Scientific Name: Turbinicarpus beguinii (N. P. Taylor) Mosco et Zanovello 1997
Published in: Bradleya; Yearbook of the British Cactus and Succulent Society 15: 81, 1997
Basionym
:

Thelocactus beguinii

N.P.TAYLOR 1983 (non Echinocactus beguinii SCHUMANN)

Group:

Gymnocactus group (Saueri aggregate)

Distribution: Northeast Mexico to central Mexico, Zacatecas, San Luis Potosí, Coahuila to Hidalgo.

Habitat: It grows in scattered colonies, on different mountains, on warm steppes, and in pine forests or bushes, at altitudes of around 1900-2100 m., on lime with a high content of organic parts and a slightly basic pH. Localities are difficult to reach, and the main danger comes from fires.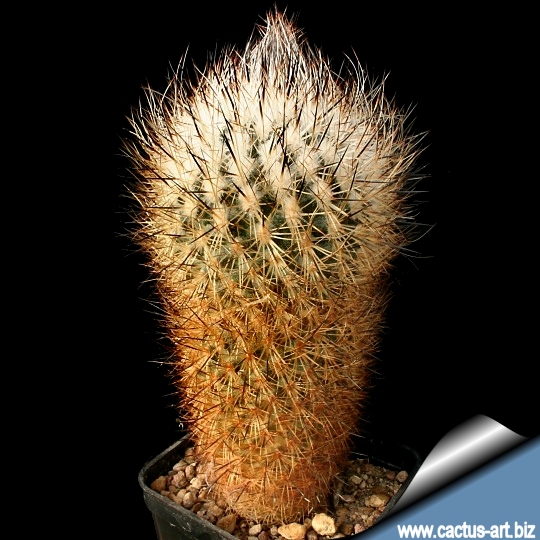 T. beguinii PAN 4 Cerro el Potosí 2000 m, NL, Mexico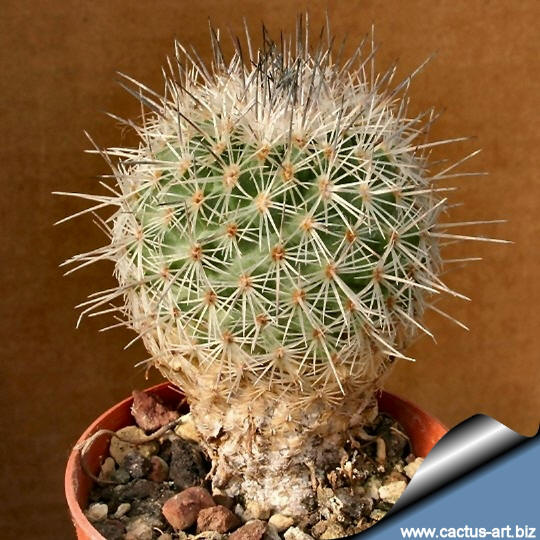 T. beguinii (pailanus) L1035 Sierra de la Paila Coah. 2200-2300 m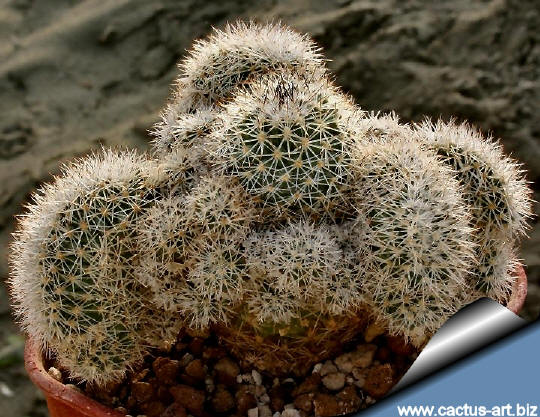 A plant with crested shoots.

Cultivation: It's a fairly easy and robust species to cultivate, but very slow growing. It needs a very well-drained soil, and requires strong sun to part sun to keep the plant compact and low and to develop a good spinal growth. Waterings should be rather infrequent to keep the plant compact, and avoid its becoming excessively elongated and unnatural in appearance. Furthermore it has a tap root, and watering it properly is often difficult, because it tends to crack open or rot if over-watered. Keep dry in winter, or when night temperatures remain below 10° C. It is hardy to -4°C for a short period. Assure a good ventilation.
Reproduction: From seed, since the plant rarely produces plantlets, or grafted.