Family:
Cactaceae (Cactus Family)
Scientific name: Echinofossulocactus hastatus (Hopffer ex K. Schumann) Britton et Rose 1922 (status doubtful)
Origin: Mexico, Hidalgo (North of Puchuca)
Tribe: Cacteae Subtribe: Echinocactinae
Conservation status: Listed in CITES appendix 2.
Echinofossulocactus lamellosus
Echinofossulocactus lamellosus var. hastatus
Echinocactus hastatus Hopffer ex K. Schumann
In: Gesa ntb. Kakteen 376, 1898
Stenocactus hastatus (Hopffer ex K. Schumann) A. Berger 1929
Efossus hastatus,
Brittonrosea hastata
Description: Solitary cactus with long sharp spines. The plants in cultivation are quite variable.
Stem: Flattened depressed-globose to short cylindrical, light green, 10-12 cm in diameter and tall.
Ribs: Up to 35, wavy with a triangular section, somewhat crenate;
Areoles: With white felt;
Central spines: 1 per areole, solitary, white or pale with brown tips, 4 to 8 cm long, more or less flattened, porrect, rigid and very sharp.
Radial spines: 5 or 6 short yellowish spines, the upper ones longer, up to 3 cm long.
Flowers: Large white or pink (the largest of the genus).
Fruit: becoming dry.
Seeds: Obovate, 1,5 mm long, brownish-grey, shining, finely punctate.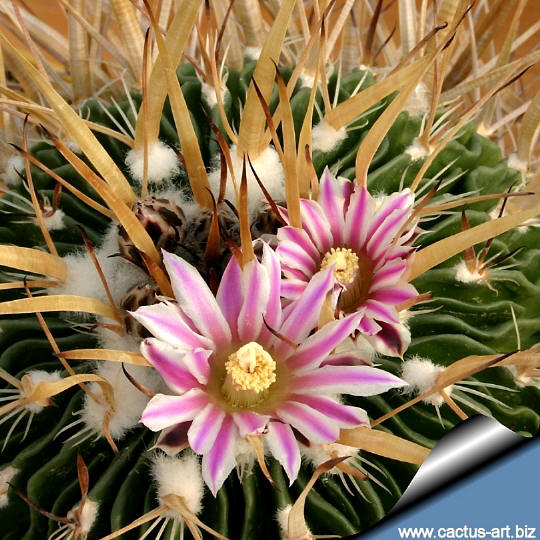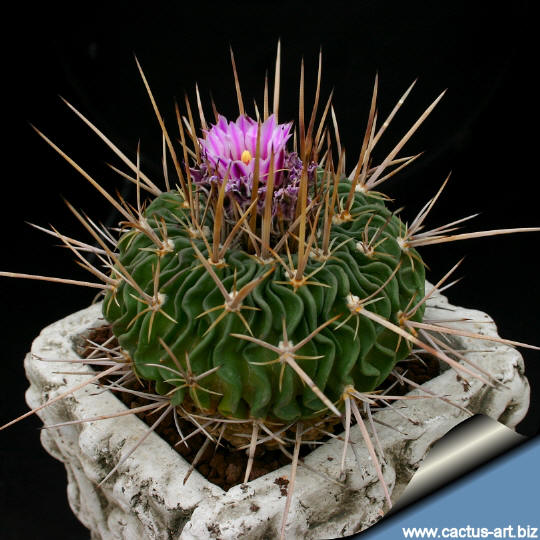 Cultivation: Small growing and easy to to care in normal and very drained cactus compost and very willing to flower, Because of it's small size makes a great potted plant specimen, great for beginning collectors, water sparingly and allow to dry between watering, needs good drainage. Watering should be curtailed during the winter months. Full sun but is tolerant and prefers light shade during the hot Summer months. And provide very good ventilation. Frost Tolerance: Hardy to - 5°C if kept dry.
Propagation: Seeds (usually) or by the shoots of adult plants (if available). It tillers more readily than most other species.
Photo of conspecific taxa, varieties, forms and cultivars of plants belonging to the echinofossulocactus crispatus complex (This Taxon has lots of synonyms (like most Echinofossulocactus) whit several controversial varieties and subspecies):